Are you looking for information on how to create a project dashboard in Confluence with live project information from Jira? Well, that's not that simple, it will always depends on each situation, and the way it flows on each company, here we will explain what's the best practice to build live Jira project reports on Confluence out of the typical Jira data visualization.
Confluence macros are one of the most common methods to share information from Jira so that it's always updated is that issue-level data in out-of-the-box macros carry little value when it comes to supporting executive decisions and keeping informed business areas with not enough interest in technicalities.
When they work with customers concerned about this type of information, our consultants implement a practical remedy that scales up these well-known artifacts with the information that matters.
Sharing live information from Jira in Confluence is easy
One of the most common ways to raise the visibility of what your teams do in Jira is using Confluence to post information for other teams and business areas to see.
This approach has a very low friction, since Confluence was created precisely to make it easier to share knowledge and documentation in large organizations and thus connect separate areas, like technical and non-technical teams.
There are two types of macros for Confluence that post native information from Jira:
The Jira Issues macro, which posts a subset of issues, a single issue or a total count of issues.

These two macros have important advantages:
Always updated to show the most current information about the issues.
Information shown is completely flexible: it's generated by queries in JQL, which most admins and super users of Jira master.
Bi-directional: While most users will see this as read-only reports, developers can navigate from Confluence to Jira Software to dig deeper into the issue and its context
Cross-project: macros can show issues pertaining to one project or any number of projects. This can generate better visibility on the commonalities of work done by groups that don't interact. For example, how many open issues involve writing new code in Ruby? How many are waiting for QA?
We see many organizations resorting to macros when alignment across business areas is a priority, or when segments of the organizations that must be kept informed don't have licenses of Jira Software.


What about ongoing projects?
Very often, non-technical branches and managerial folks won't be that interested in the nitty-gritty of IT & Development work, they're more likely to look for the bigger picture. After all, understanding how many teams are working on what, and how much they have accomplished should be easy, since that information is already in Jira! Unfortunately, issue-based business intelligence won't let you see the general trend: You can't see the forest when you're surrounded by trees.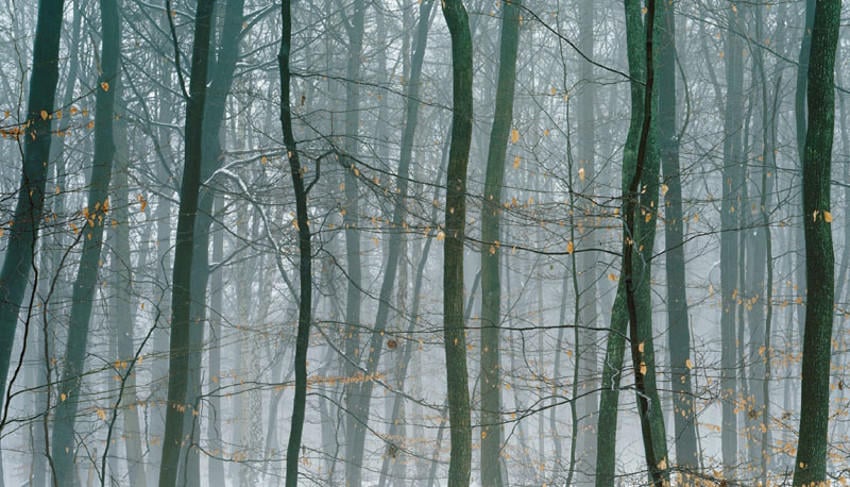 Credit: Axel Hutte

But there is a very simple way to upgrade Confluence macros: skip issues and go to the project level to report what you know about larger packages of work!
Remember that the Profields gadgets we are about to show share the same advantages listed above: they're always updated, connecting Jira with Confluence, and allowing to compare projects at a glance.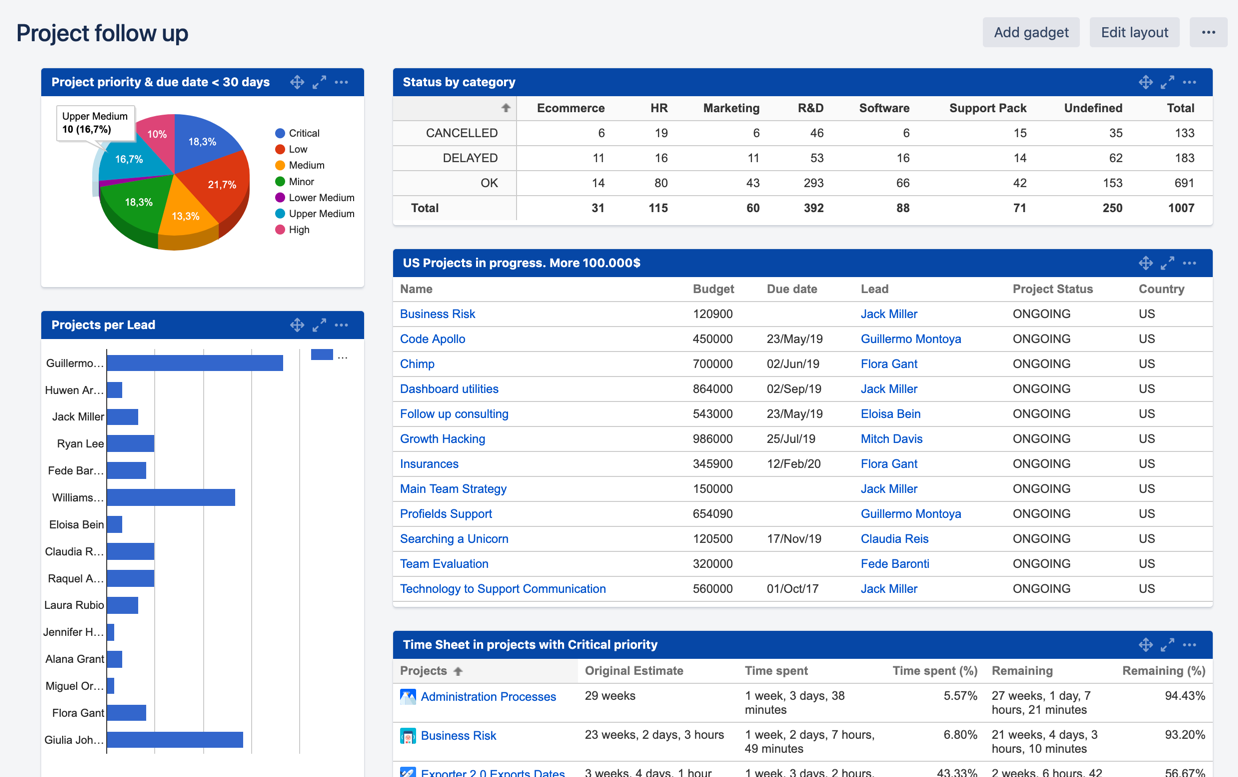 Important note: This approach requires the use of Profields for Jira, which is available for customers in all hosting modes: Cloud, Server, and Data Center.


How to build Confluence macros with Project lists from Jira
Once in Profields, you can follow the same method to create your dashboard gadget that would work in Jira. In summary, there are three steps:
Create a query with Profields Query Language.
Create the Gadget.
Add the gadget from within a Confluence page.
You can see the documentation here.
1. Create a query with PQL (Profields Query Language)
Just like when using a JQL, before writing a query in Profields Query Language you should start with a clear question you'd like to answer. Here are three possibilities, going from the most basic questions to more complex insights.
Depending on how you frame the questions and how much project data is implemented, this view can offer you sections or facets of your catalog of Jira projects, offering a proper view of your project portfolio.
What projects are assigned to what project leads?
The following PQL will show the projects assigned to a project leads
"lead IN ("Melinda Manager", "Product Paul") ORDER BY name ASC"

Your product managers are very valuable resources. Would you like to know whether they're buried in endless responsibilities? This query will show you what is on their plate, helping you kill or reassign secondary work that is holding you back.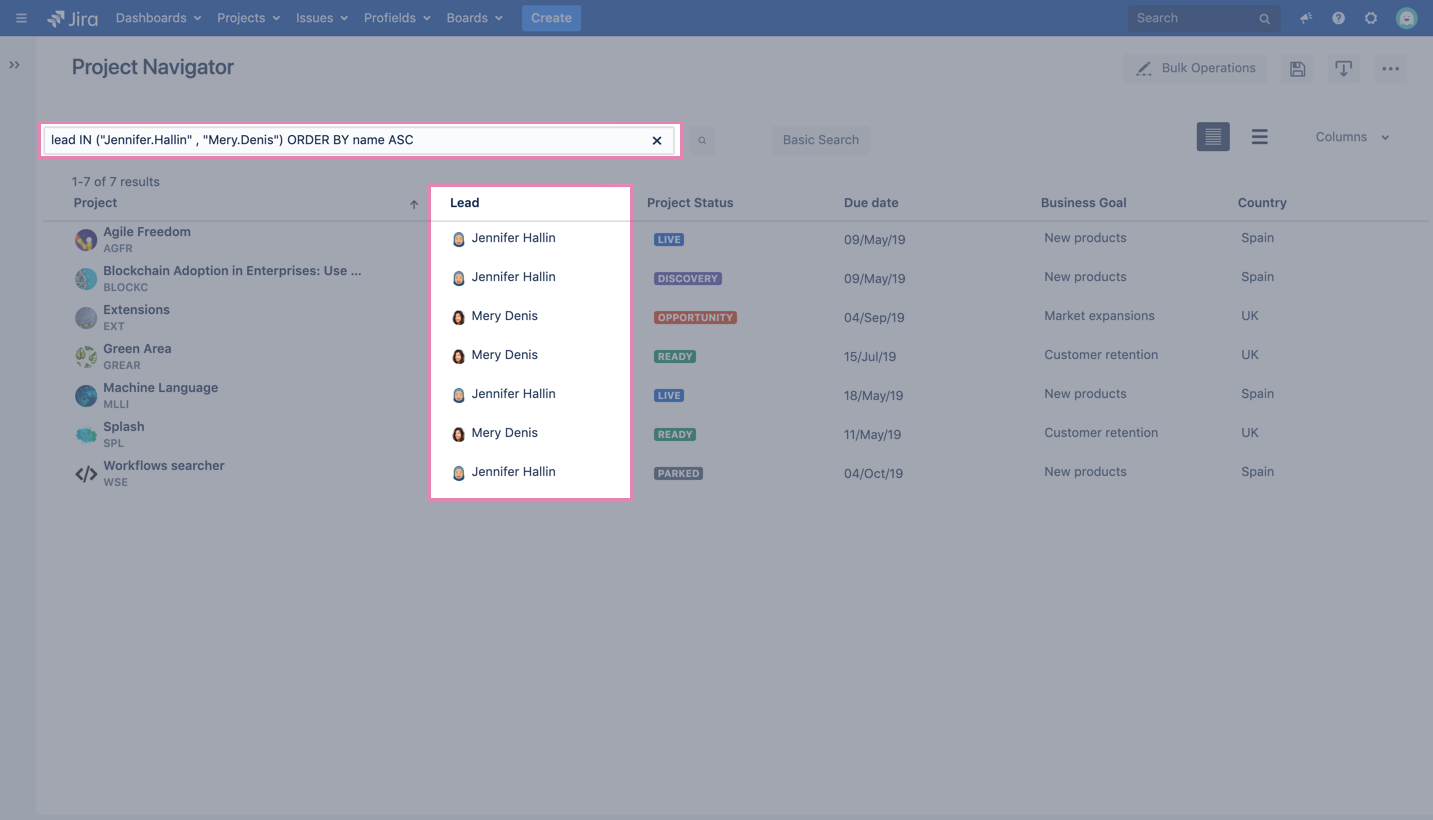 How many important projects are critical?
"Priority = "critical" OR Budget > 1000000 ORDER BY name ASC"

How many large projects are you managing? And how many of them are considered critical? It's important to have a constant oversight over this project list at all times to ensure that strategy and execution are connected.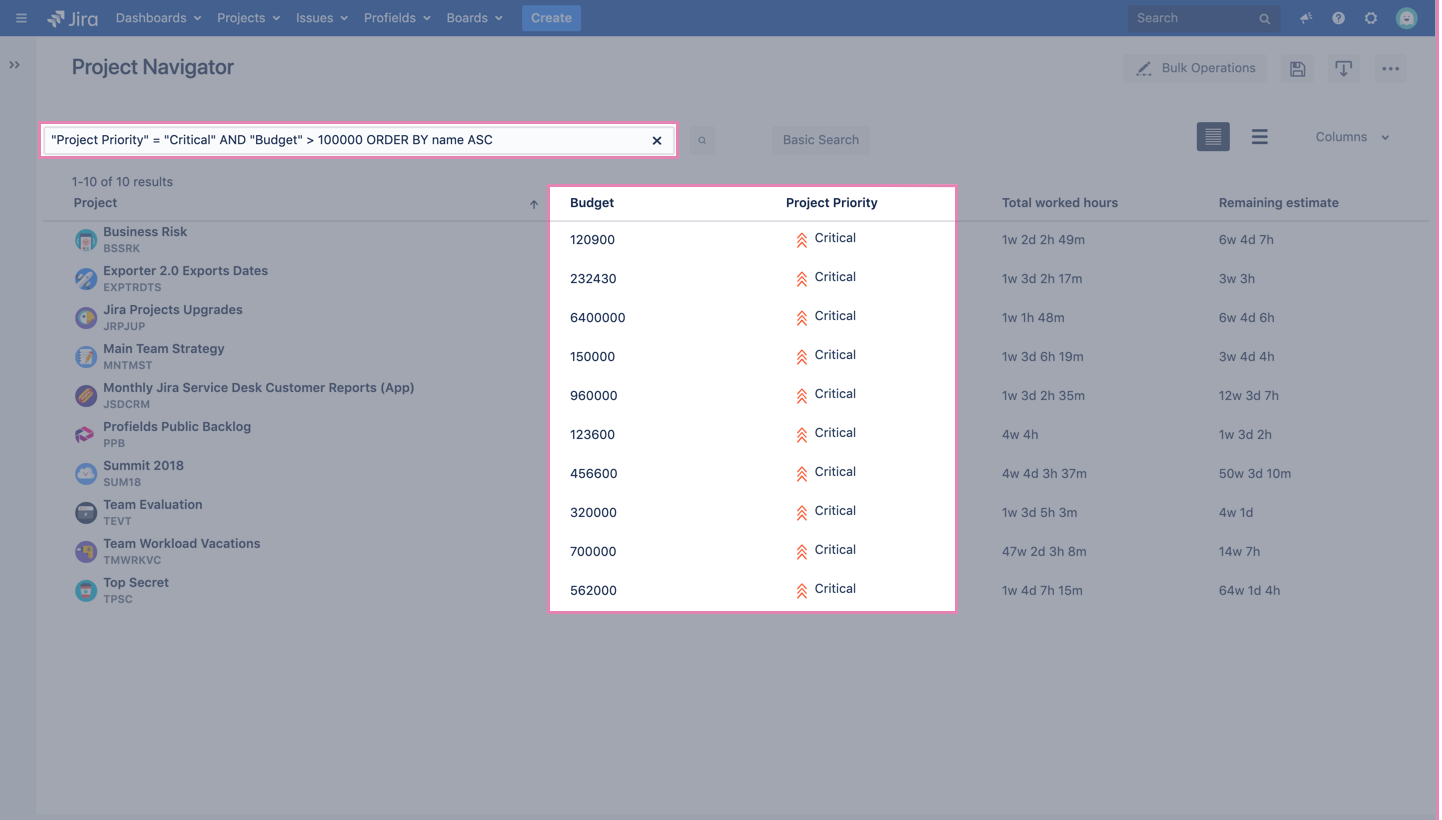 What ongoing projects in the US have a budget of over $100,000?
"Status = "ongoing" AND Country = "US" AND Budget > 100000 ORDER BY name ASC"

There's a similar motivation behind this question. What smaller projects are we doing? How many there are? If there's not a proper project initiation procedure, this list may grow uncontrolled, that's why it can be a good idea (particularly for the CFO and his collaborators) to watch it.
1. Create the Gadget
Choose the type of gadget you want to include in Confluence. In this article we are focusing on project tables, which are basically an exported view of the Project Navigator.
2. Add the gadget from within a Confluence page
Finding the right balance between project intelligence and implementation complexity
Acquiring an app just to place a macro in Confluence might seem like an overkill at first. But wait until you try and test the sheer number of different possibilities. It's important to note that the app provides value even in the simplest implementations but can become an indispensable part of your Atlassian stack if you decide to put a bit of work into it.
There are basically three steps in the implementation ladder. Each of them corresponds to one of the levels of complexity in the PQL examples above.
Low effort
Summary: Use Profields to generate reports with data that is already stored in your Jira projects
When to use it: Use a low effort implementation if you only want to have a basic understanding of how many projects you have, and you don't need to categorize them; or when you don't want to invest time in creating any new data at project level.
Advantages: Jira already gives you a ton of data! Use timesheet gadgets for an oversight of the time worked in each of your projects without any additional configuration, and progress towards a higher effort approach whenever you need it.

Medium effort
Summary: Leverage automated fields in Profields to create new insights
When to use it: When you want to generate quick wins exploiting data from your issues as project level metrics
Advantages: There's no need to discuss the advantages of automation. Basically, any work you put into it will save you time down the road. Additionally, you can create simple automations with the cumulative fields; but you can also script anything and it will only be time-intensive at the outset.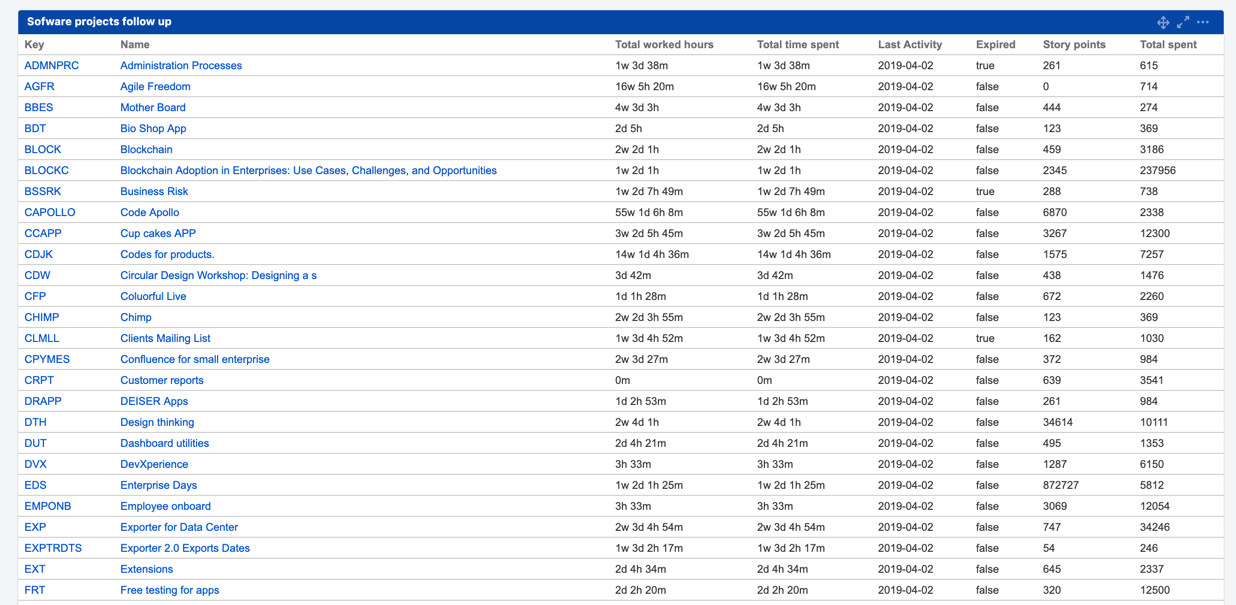 High effort
Summary: Create and enforce a robust taxonomy of project metadata
When to use it: When you're a large corporation and a categorized Jira project portfolio is a key asset.
Advantages: This approach allows to have system-wide project data with project end dates, team and role information, or any other type of categories ­– but it requires a high amount of data input, strong policy enforcement and careful standardization. If done properly, the resulting reports will offer you authentic snapshots of your project portfolio indicating, for example, how many projects have been approved and budgeted for any given business goal and corporate division.