Jira project reports has two basic ingredients: Projectrak (formerly Profields), which offers a data platform to store, organize and visualize project information in Jira; and eazyBI, a powerful business intelligence engine. Both, integrated natively and available at the Atlassian Marketplace.
Follow these tips to start using them, and reap the benefits of simple, automated project intelligence and Jira data visualization:
Jira project reporting is key when it comes to refining business intelligence. When everyone has the power to know every detail about their projects, from the Jira budget management or the time spent in a project, on different projects, teams work more efficiently towards a common goal: to grow as a business.

Integrating systems can be complex: human interactions, work alignment, business goals aligned, and many more factors...
It wasn't the case for Jira reporting plugins such as Projectrak and eazyBI which have merged for the common good; on this video, eazyBI's CEO Raimonds Simanovskis explains how this integration came to life:

As Raimonds mentions, the integration was quickly decided because both apps have the same focus: to provide the best insights and data about teamwork of technicians and managers using Jira. Knowing that, let's get into it with seven tips about this integration and how to improve project reporting in Jira.
1. Create as many project fields as are needed with Projectrak

Get more information about Jira projects with fields such as due dates, status or budgets; also it allows to see which one is open and add it another kind of information you may need:
2. Be sure to have both, Projectrak and eazyBI

Don't accept imitations. It's the best way to obtain all the data of your projects in Jira to create visualizations through the simple way.
eazyBI, as one of the best-sell reporting apps in the Atlassian Marketplace, it allows to get perfectly well-structured dashboards in Jira, through robust project calculations supported by Projectrak, and it can be shown through a wide range of different charts.
By integrating this app with Projectrak, you'll get those details for projects. Imagine how those reports will look!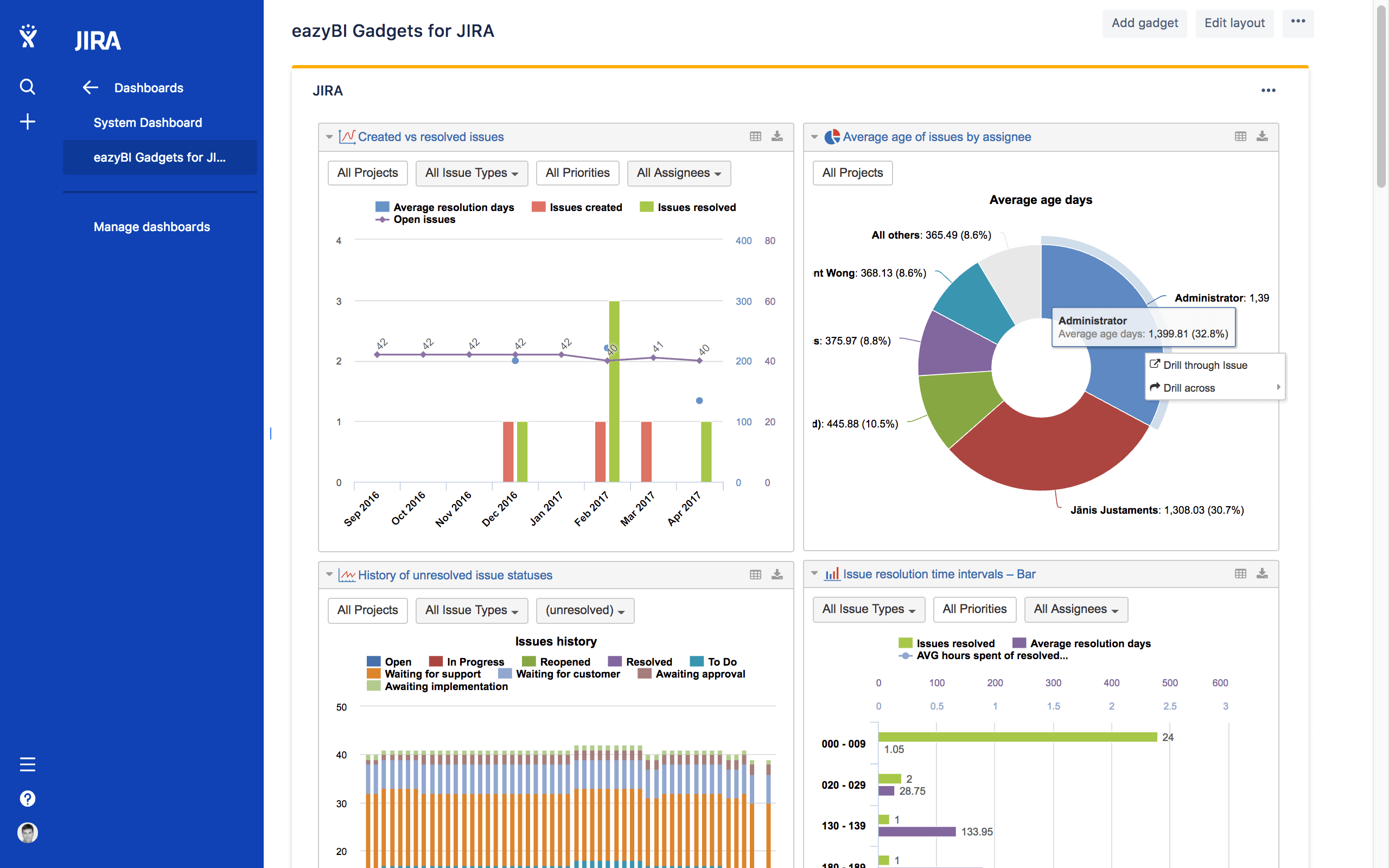 3. Start reading data from Projectrak in eazyBI
You don't need anything to integrate both tools! It's enough to have installed Profileds and eazyBI in the same Jira instance. The rest will be a simple setup with no code.
See the video below for more information about it:
4. Select which projects to report in eazyBI

In Projectrak:
Inspect all Jira projects you want to report on, and make sure their information is up to date. If you need more information, check out out documentation center.
To set up this information in eazyBI:
Create a new account to hold your reports.

Select Jira and Projectrak as a data source: you'll get a datacube holding all relevant info.

Select which Jira projects you want to report on.
5. Specify what kind of data matters
You may have tons of data. Make sure you only bring to eazyBI what you're going to be using for your visualizations! You'll be editing a simple interface like this one: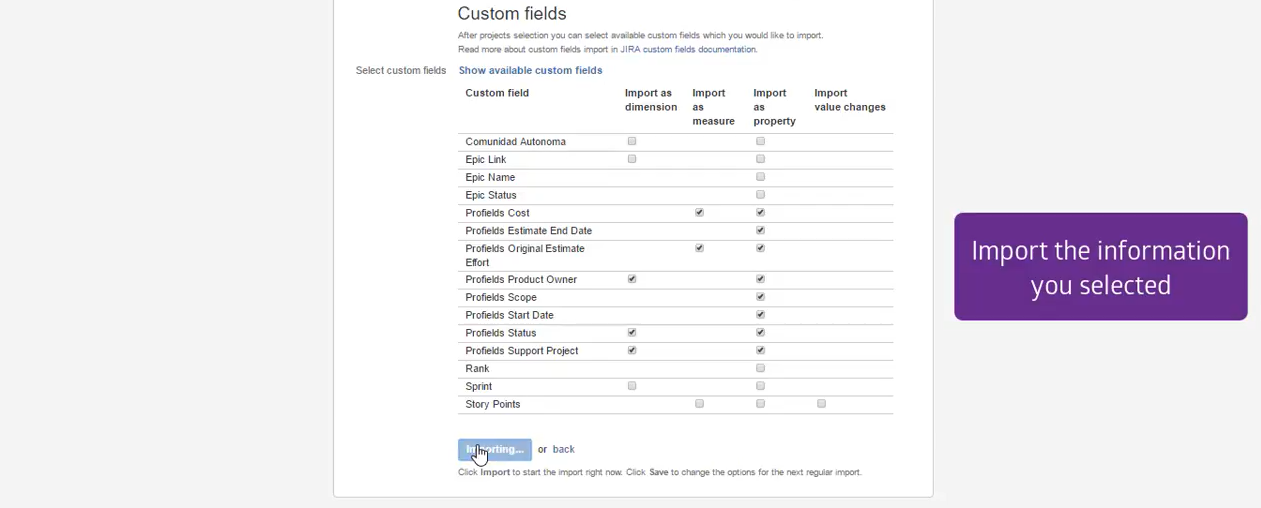 6. It's important to distinguish the configuration of issue and project data
During the setup of your reports in eazyBI, you will be able to analyze and combine data that comes from Jira and Projectrak.
Be always mindful about how you combine them in your analysis. As a general rule, consider the two following approaches:
Project data can be used to filter or group the information about your issues in a more sophisticated way.
For example: how many open issues does your company have in support teams in Germany?


Issue data supports project monitoring: The data from your issues can be visualized for selected projects as a way to track progress towards your goal.

7. Jira projects data at glance with Projectrak & eazyBI
Yep, life is great, now is possible to set up the type of chart that better suits the information is needed to see, analyze and make better business decisions.
By example, down here there are pie charts showing the time spent in different projects from each team member.
See more more examples of charts showing Jira data visualization , and the best practices to set it up.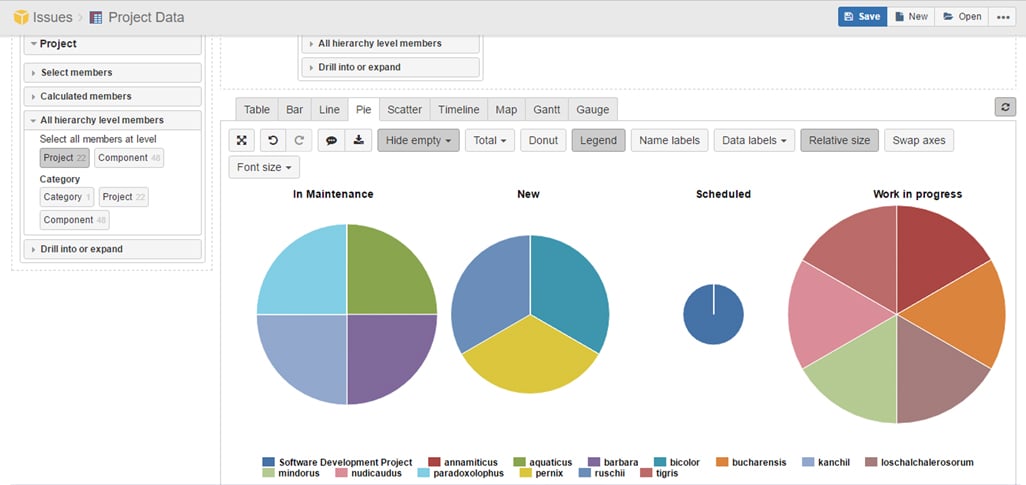 If you have doubts, don't be shy! Contact us, or keep learning by subscribing the Jira Project Reporting Academy, below: