Projectrak (formerly Profields) is an app for Jira available at the Atlassian Marketplace that started 2020 with its 7.0 version, and most importantly, with a greater focus: to help people tracking projects in Jira. Keep reading to learn about the latest features introduced to Projectrak, and why it's a solution to handle project information in Jira according to your needs...

Projectrak (formerly Profields) is a Jira app that centralizes a series of features allowing users to track Jira projects; it's a product manufactured by DEISER, an Atlassian Platinum Solution Partner Enterprise, and Top Vendor in the Atlassian Marketplace, crafting Projectrak with the mission to help other teams to achieve their goals.

To understand better the advantages this app for Jira Data Center, Server and Cloud offer, let's get a look into a basic concept, and the main features the app offers in this recent version:
Traking projects in Jira
What is this Jira project tracking? As we previously defined, tracking projects in Jira it's the capacity of a person to identify in the tool, the status of each project, supervise how it evolves over time, and determine whether they are finished (or almost,) or even, the capacity of determining whether a project could result in an economic hazard (or not.)

Now, having in consideration what's Projectrak for Jira, and what is the tracking of projects in the Atlassian tool, let's proceed to describe the features Projectrak 7 brings, and show how it can help you to reduce complexity, centralizing the information, and lowering the time users invest in Jira projects.
The Project Navigator
During the inception phase of Projectrak 7.0, we all (stakeholders, team, management, etc.) reached the conclusion that we wanted to centralize and enhance user work with Jira projects, that's why we modified the Project Navigator and the filters management.

With this new version, we have re-invented the way users visualize and work with projects, giving prominence to, of course, Jira projects. We have moved the filters section to an option in the upper section, and we have created new navigation which will allow them to move across the different views of Projectrak (both current and future) from the same screen, as you can see the comparative image below: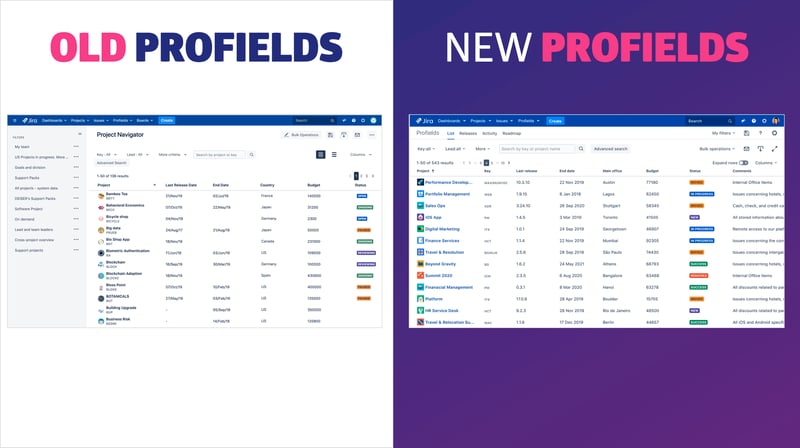 The new face of Profields (at the time), now Projectrak represents a relevant solution in the matter of handling the project information in Jira.
The new Project Navigator and the new filters management will allow users to work with their projects in a more comfortable way, without losing focus from the most important thing for Projectrak: Jira projects.
"View Issues" is another great feature we have incorporated, with it is possible to access the Issue Navigator of Jira right from any Project Navigator view, allowing users to search issues in every project, by a project query, applying JQL Functions; this way you'll have broader and detailed access to your projects. Check the Projectrak Documentation Center to learn more about this.
Different views? Yes, the Project Navigator is the home view of Projectrak, allowing users to work with several Jira projects with ease. Example of that, the two different views now available (giving birth to the concept of view): the former and single view, before known as the "project navigator," now it came to be the List View, so we can differentiate it from another we have introduced at the Project Navigator of Projectrak 7: the Releases View.
First, it's important to clarify we develop Projectrak to enhance user work with Jira projects, focusing on giving relevance through two dimensions: visualization and operation.
Consequently, Projectrak has become not only in a place to centralize all of the project information but also where you can visualize it and operate with all of this information.
The Releases View
What is the Releases View? Available as one of the two views from the Project Navigator, the Releases View is the place which allows every Jira user to visualize in a single screen a timeline with the upcoming releases of your projects, the iterations and the status of each of them. We have created this view, as one of the attributes inherent to projects, which are versions (aka Releases). Below you can see the overall look and feel of this view: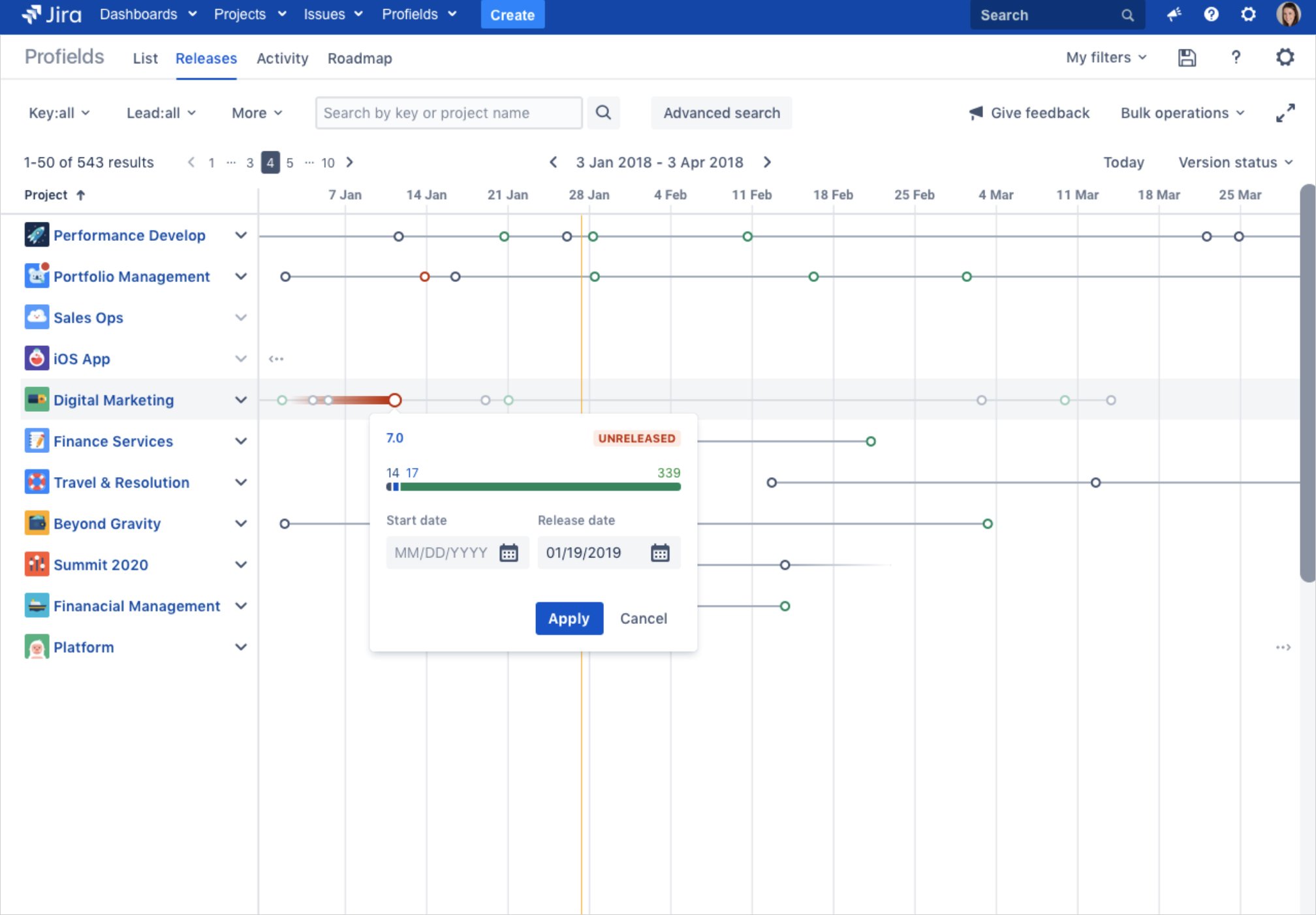 The Releases View it's a Projectrak 7 feature, available to track project releases in Jira.
The Releases View allows a timewise navigation, showing when each version starts and when it ends. If we look back to the past, we will see when each version was released. In short, total control in a single view of every single version of the projects you are taking part in or interested in.

Select a custom date range of the project/product you are interested in. By clicking on the date range, a small window will appear, there you will be able to choose and customize the range of project versions, as you can see below: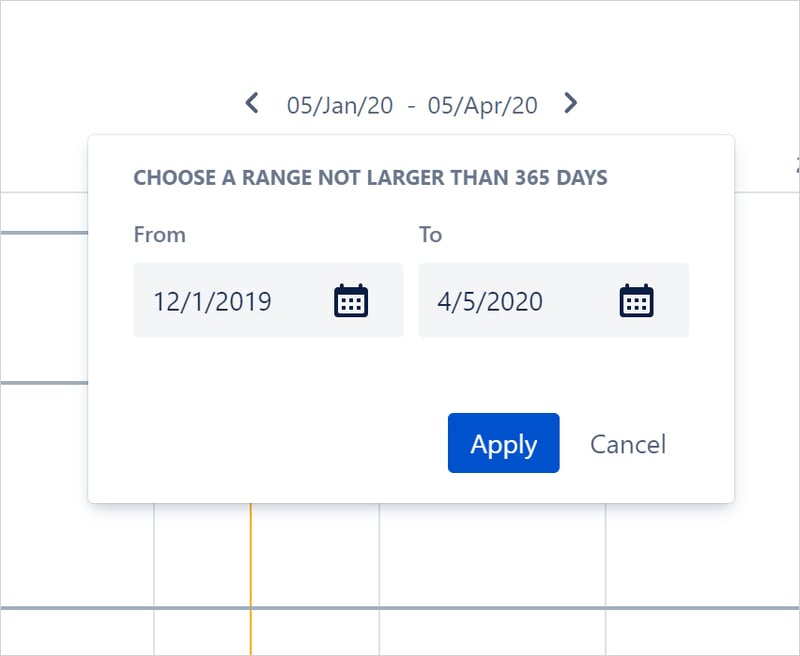 The Releases View allows to select a custom date range of the project release you are tracking.
The Releases View in Projectrak 7.0 is basically for those having versions in Jira. That is, for those involved in the creation of software, such as:
Marketing or Ops teams to be aware of the progress of a product version without having to ask the engineering team.
Release Managers or Release Engineers to have a quick look at the releases of those projects (products) they are responsible for.
Project or Product Managers participating in more than one project or product to be able to operate with their versions from a single view.
There is not already something similar in Jira?
The short answer is no, at least not for projects. The long answer is that versions are another entity of Jira, and there do exist mechanisms to visualize them. However, all of these visualizations are available from the point of view of the issue. That is where Projectrak make the difference, the Release View provide users a visibility of the releases from the point of view of projects.
Instant benefits of using the Releases View of Projectrak
Be aware of the upcoming releases.
See which releases converge in time.
Spot which releases has a Start Date but lack of a Release Date, and the other way around.
Identify which releases were freed in a given period of time, and which ones should have already been freed.
Keeping in mind that our main mission manufacturing Projectrak is to enhance the way users work with Jira projects, we followed the desicion to prioritize in our backlog the integration with other applications in the Atlassian Marketplace that leverage the user experience, this is how the integration with Automation came to be: a logical next step, and a turning point in the automation of tasks which are directly related to the project information in Jira
Projectrak & Automation for Jira
What is about the integration of Projectrak with Automation for Jira? Basically, to automate project-related tasks in Jira; and more specifically, we have integrated Projectrak in every level which Automation has allowed us to do so:
Triggers: To automate events based on changes occurred in a project property.
Conditions: To automate tasks according to one or more values associated with one or more fields previously created in Projectrak.
Actions: To automatically update one or more project property field values.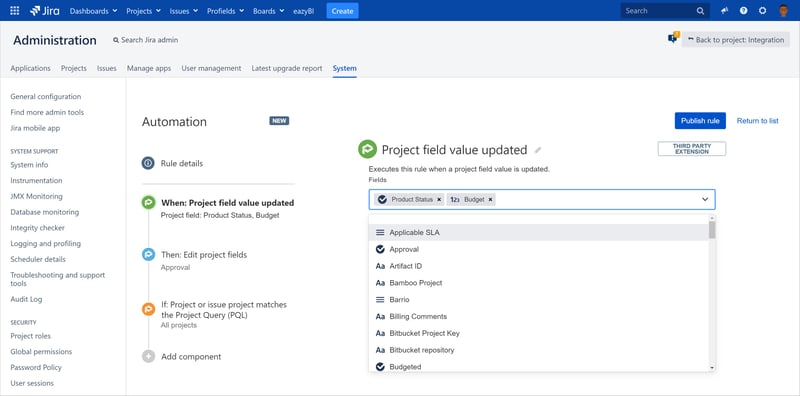 The integration of Automation for Jira and Projectrak to track projects in Jira represents a turning point in the automation of tasks directly related to project information.
The Projectrak and Automation for Jira integration is a must for Jira Administrators who want to strengthen their processes, Project Managers, or those interested in automating actions in their projects which are based on property field values, created and stored in Projectrak.
Also, it's a very useful integration for Atlassian Solution Partners aiming to track what happens across the Jira projects they supervise, and every person willing to automate actions based on information around Jira projects. Get an idea on how we do it in DEISER.
If you want to learn more about this integration, stay tuned. Soon we will drop an in-depth new blog post about this subject. In the meantime, start working faster by downloading the e-book with seven use cases when integrating Automation with Projectrak, we offer below.


Projectrak shows itself as a hub of solutions that responds the needs of tracking projects in Jira and project information storage; it's time to encourage the teamwork around projects in Jira; in the end, the tracking of projects it is just not exclusive responsibility for those so-called "project responsible," project tracking is everyone's business, and the responsibility relies on each project stakeholder, according to their level of involvement, this is the way to build true teamwork.
If you want to know more about Projectrak, we recommend to give it a try now and get a free trial available at the Atlassian Marketplace, if do you have doubts about these functionalities, or do you want more information, please don't hesitate on contacting us here, our Customer Support Desk.

Do you feel ready yet to start tracking and automating projects in Jira using Projectrak? If that's the case, use the e-book below, in order to learn from 7 different use cases on how to automate tasks directly related to the project information in Jira.
This blog post is the product of a collaboration between Leo Díaz with the support of the Marketing team.