At first glance, the cost of migrating to Atlassian Cloud often seems higher than expected, without realizing that's the tip of the iceberg. If you take an in-depth look at Atlassian's cloud offerings, you can appreciate how they actually help to save money in the long run. In this post, we'll show how this deployment option is more valuable and learn how to evaluate the long-term ROI.
When a customer is evaluating Atlassian Cloud, usually, these are the first questions that pop up:
What's the cost of migrating to Atlassian Cloud?
Which is more expensive: Hosting software tools on your server or in the cloud?
Depending on whom you ask, the answer to these questions will vary depending on the complexity of the migration. For companies, it seems to be a simple question, however, the answer it's not a simple yes or a no; again, it depends on what you have and where you want to be. Our team of Atlassian Certified Professionals faces these situations daily, almost.
From a financial standpoint, the competitive advantage of migrating to Atlassian Cloud is to increase profits by reducing administration costs, and precisely that's the "secret" we'll reveal in this blog post.
The cloud will always seem more expensive when comparing monthly subscription costs of the cloud versus a lifetime payment of on-premises software licenses. Moreover, if we sum up the "additional" costs of the cloud migration process without the proper analysis, it seems to be a higher investment.
What's not considered in this way of thinking is that this process only happens once, and it's a short-term disbursement. If we look at the long-term value, the self-hosted installations are more expensive.
Why do we say the overall cost of Atlassian Cloud it's just the tip of the iceberg? Because its ratio cost/value is hidden but not missing. Besides, Atlassian is becoming a Cloud-first company that sees with good eyes and favors these migrations.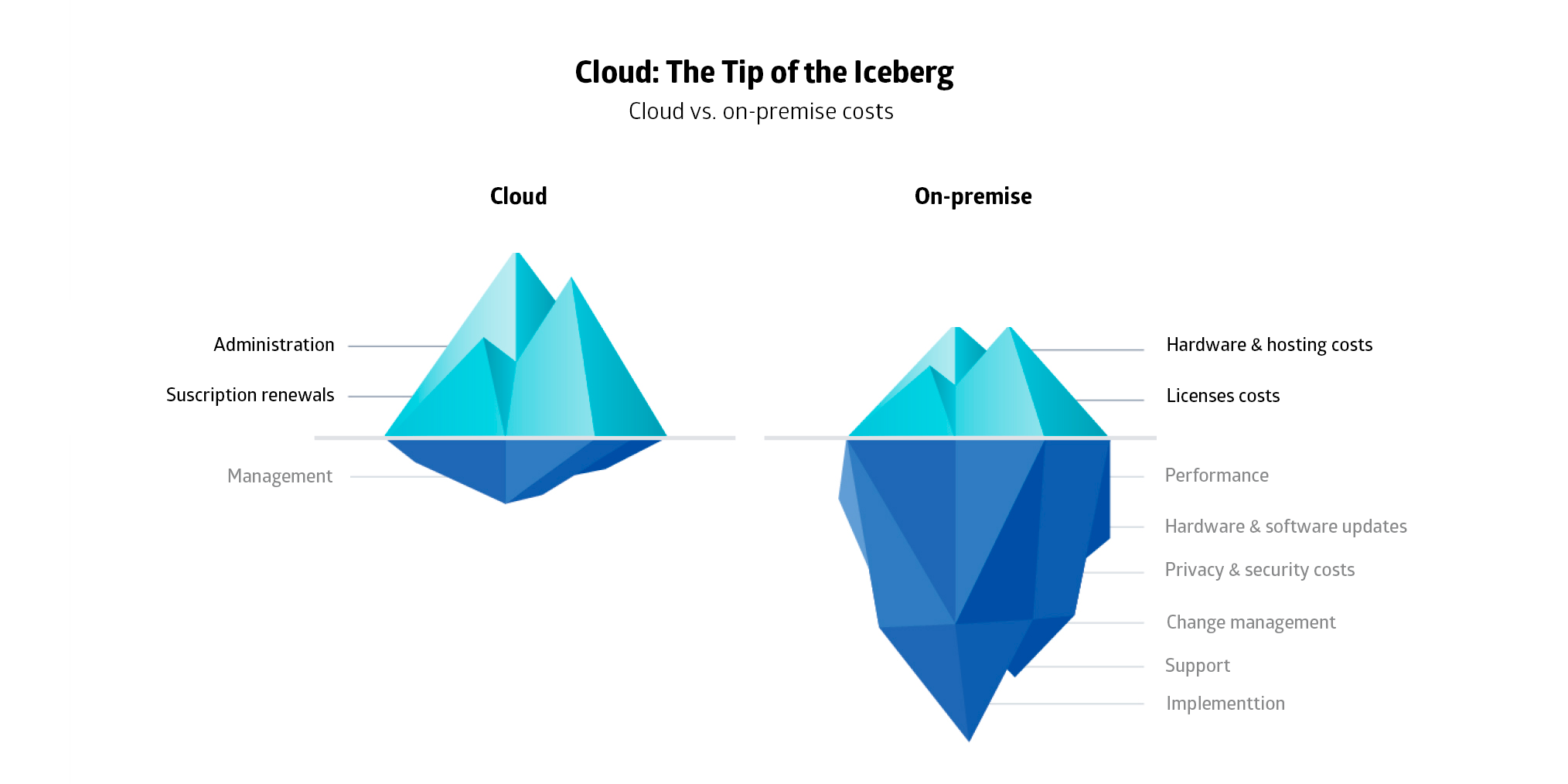 The costs of Atlassian Cloud are just the tip of the iceberg, it's the most affordable option in the long run.
Check which other reasons support that the cloud lowers long-run costs for companies using on-premises deployments:
In some cases, system downtime in on-premises environments, depending on the time down, can be three times more expensive than an Atlassian Cloud subscription for a year.


The time and resources invested by the IT team in self-hosted options are higher, which changes in the cloud. Atlassian Cloud allows cutting this investment in half by moving out off-premises.


Atlassian Cloud reduces operating expenses and the cost of provisioning resources (these costs affect most companies working with on-premises options).
The numbers and studies behind these facts:
The question we need to make shouldn't be primarily focused on whether it's cheaper or not, given that this answer depends on whether the hosting use will be long-term or short-term. In addition, it's necessary to determine what's best for the organization by raising the following questions:
Are you comparing only the initial costs without considering what you will save in the future?


Are you looking at a broader view? Are you considering the total cost of what it represents to maintain a self-hosted option in contrast to what Cloud offers?
By answering these questions, you'll get a better and broader picture, going beyond that tip of the iceberg representing the early costs of migrating to Atlassian Cloud. In addition, there are more ways in which the cloud saves more money and effort in the long run; here are five of them:
Five ways Atlassian Cloud reduces costs

1. Reduces, or eliminates, the cost of significant incidents
On average, a company loses $5,600 per minute in downtime, according to Gartner research from 2014, and more recent reports show figures around $9,000, which is ultimately an average statistic. Some companies have more to lose. For example, in 2019, Facebook suffered a 14-hour outage that caused them to lose around $90 million.
With self-hosted facilities, solving downtime falls directly on internal IT teams, creating a lack of focus on daily tasks, affecting the organization's internal productivity, and also affecting the company budget by paying compensations for overtime, payment of penalties for non-compliance with SLAs, on-call charges, and other collateral damages. In this scenario is where Atlassian Cloud represents a cost-saving solution:
In a way, the cloud represents outsourcing all the responsibilities mentioned above that get affected during downtime, whereby Atlassian Cloud guarantees an uptime of 99.95% and, if an incident occurs, provides the necessary resources to resolve them quickly and at no additional cost. You can learn more about it in this comparison of the Cloud and Server offerings.
2. Relieves IT team workload
Time is money, so we suggest making a task list the IT team must perform to manage local servers. Tasks include performance monitoring, scheduled updates, software downtime, security patches, server spares, VPN systems for remote access, incident management, change management, manual integrations... the list goes on and on...
When in the cloud, that same list of tasks falls on Atlassian, as they will be responsible for updating releases, monitoring security, keeping servers healthy, and addressing new feature requests and bug fixes, which means that the IT team, who by the way tend to be the highest paid, will carry out more strategic, technical or urgent tasks rather than wasting time in routine and/or tedious tasks. Therefore 74% of organizations say that the cloud gives their team a competitive advantage over self-hosted versions.
3. Lowering operative and physical costs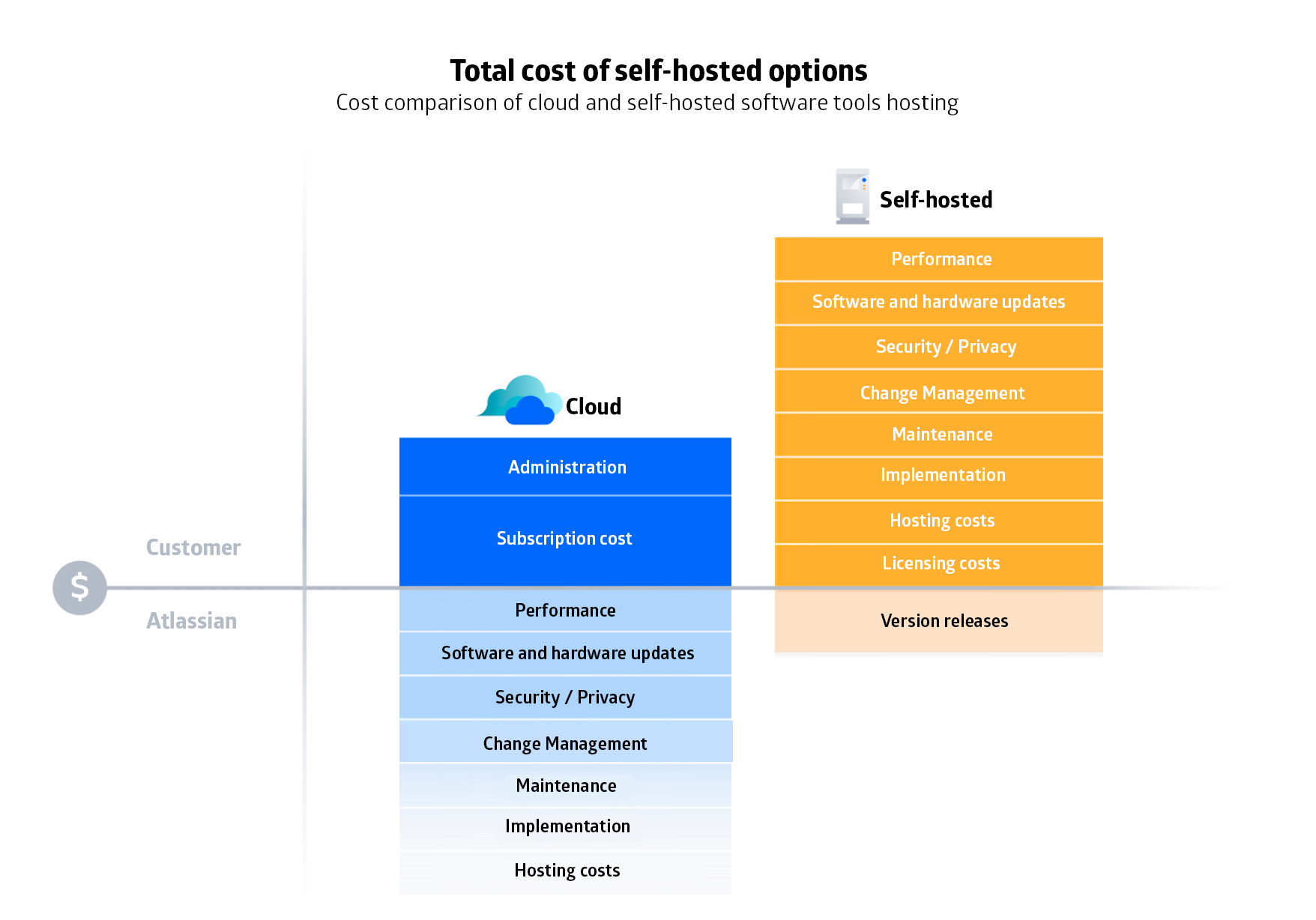 Self-hosted options come with a lot of material and operational costs that are not visible at first sight and are not present in the cloud, such as:
Servers: They have an average service life of 3-5 years; they need to be physically repaired and replaced regularly.


Server service support: load balancers overhauling, temperature control, server racks, spare parts, all besides the servers themselves. Self-hosted options come with lots of hardware and physical support assets that must be purchased, maintained and replaced regularly to avoid expiration and depreciation.


Software license renewal: As one of our primary services, we know that many companies often face the problem of buying too many licenses, representing up to 34 billion dollars per year for U.S. and U.K. companies. To avoid this common mistake, companies should rigorously track who needs which software has license services and/or migrate to the cloud; in the cloud, administrators can instantly track, update and view as many users as required.


Electricity bills: Generally, 80% of companies using self-hosted servers use more energy than necessary, representing a high investment in the cost of electricity bills, higher than what it would cost to work with software tools in the cloud.


Real estate: having servers means taking up some physical space, and moving to the cloud would allow for better use of existing space.


Maintenance: maintaining servers requires temporary staff or contractors. Moving to the cloud represents significant savings.


Asset management time and audits: the more assets (hardware and software) the IT team monitor (including all server hardware, plus software licenses and upgrades), the team will spend more time on resources and mental overload, creating other types of problems.
4 Keys to increasing team productivity in Atlassian Cloud >>
4. Reducing environmental costs

Everyone must take care of our environment and raise awareness about it. Acting with respect for everything around us is a way to be consistent with this duty. When comparing self-managed and cloud options, the most environmentally friendly option, besides being more affordable, is usually the cloud.
The main reason is that energy costs money. And using more than necessary is more expensive. So, when we say the cloud is up to 98% more environmentally friendly, we also say it's cheaper.
5. Transfers the cost of escalation
80% of resources in self-hosted options represent a cost of more computing power than necessary. In such cases, migrating to the cloud automatically scales resources up, down, in, and out, generating savings of 30% per year.
When working with on-premises options, the IT team makes an educated guess as to the presumed computing power that will be needed, and the problems could be:
If the calculated value is too high, you pay for resources (servers, load balancers, power, etc.) that aren't and will not be necessary for the cloud.


If the calculated value is too low, the company will go through a lengthy and costly manual scaling process in the future, acquiring more servers and computing power to meet the organization's demand. The cost of the mental effort and stress on the IT team to stay ahead of business requirements will be saved in the cloud, which is an intangible benefit.
As a result, when working with self-hosted options, there's a risk of making incorrect calculations, which, in either direction, might have a significant impact on the company's bottom line.
Thus, it's becoming increasingly obvious to have a cloud service at its disposal, especially if it offers automatic scaling options. Atlassian Cloud allows computing power increases when the demand for tool usage increases, and when usage slows down, it's reduced to save money.
The Atlassian Marketplace Cloud App Price Calculator
The Atlassian Cloud app price calculator determines the monthly or annual cost of users needed per app. Just enter the number of users required, for instance, and the calculator will give the total cost, as seen above. It's also possible to get the price range per user as seen below: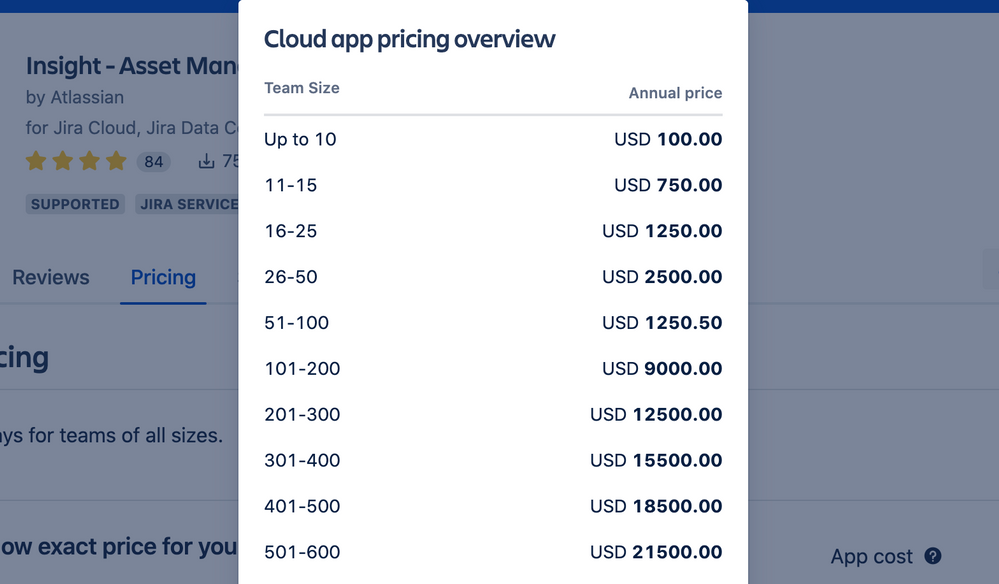 Determine monthly or annual costs of apps per user with the Atlassian Marketplace cloud apps calculator
How to calculate the cost of migrating to the Atlassian Cloud?
The following equation helps to calculate the return on any investment (including the migration to the cloud):
(Profit/Return On Investment - Investment) ÷ (Investment) = ROI
In the following example, let's use the above equation. In the assumed case, we invest $50,000 in a cloud migration from an on-premises option and save or earn $50,000 annually after the migration. The equation would look like this after three years:
($150,000 - $50,000 = $100,000) ÷ ($50,000) = 2
In other words, the ROI would be 200% after three years, and during the first year, it would break even; in the second and third years, the real gains of moving to the cloud will be seen.
Understanding the savings often involves a calculation that spans several years. Sometimes it makes sense to make this calculation based on one or two years; however, by moving to the cloud, the savings increase over time since the initial cost of migration is a one-time expense, and the savings on servers, software, IT equipment, contractors, etc. are generally annual. This means the ROI of being in the cloud tends to increase over time.
The tricky part of the equation is calculating the two numbers you need for your ROI:
To calculate the initial investment to migrate from an on-premises installation to the cloud, you'll need to add up the cost of professional services, internal resources, software licenses, data migration, cloud subscription, and, if necessary, any retraining required on the cloud tools.


To calculate the gains, add savings on hardware, software licenses, energy, real estate, maintenance (including outside contractor time), asset management time, incident management time, security, feature, and IT team upgrades or staff reductions.



To calculate the cost of downtime (one of the most difficult to calculate as the reduction of one hour per year represents up to hundreds of thousands in savings), consider performance gains and time saved by non-technical teams. In the cloud, non-technical teams have more access to new features, increasing productivity, collaboration, and security.
What are other companies say after switching to Atlassian Cloud?
After a major outage that cost them three times a subscription to Jira Cloud, the company Igloo Software migrated from Atlassian Server to Atlassian Cloud, saving not only the cost of future significant incidents but also administration time and scheduled downtime, as the company's Tools Manager, James Seddon, says:
"When we used to manage our own Jira server, each update required at least two hours of downtime, and we had to schedule it after 20:00, which meant I had to lose a night. And for the Bamboo and Bitbucket updates, we had to do them separately, and they also took at least two more hours."
The ability for users to have the freedom to configure features on their own represents significant time and cost savings. Seddon notes that since the change, support tickets have been reduced by 50% because users are empowered to do much more of their admin work.
The benefits of moving from a self-hosted option to the cloud are becoming increasingly apparent. More and more companies are joining this transformation process where the benefits are evident for the team and the organization's finances.
If you're currently considering moving to Atlassian Cloud from the ground up or migrating due to the Atlassian announcement ending the Server option and feeling overwhelmed, don't hesitate to contact us. We will guide you through this migration process.