What is Jira Align? It is a software tool designed to provide greater coordination between teams and deliver the productivity that organizations need to succeed with Agile at Scale, that is, to offer large enterprises the same agility as a startup. In this publication, we will guide you through what you need to know about the tool.
At the Australian software company's most renowned event, the Atlassian Summit (now called Atlassian Teams), Jira Align was announced (in 2019): the new image of what used to be known as Agilecraft, a tool that provides the necessary visibility to each profile of the organization, on the same job.
This announcement generated a lot of excitement and interest, especially in the Enterprise Agile space. The promise of Jira Align to line up common goals, support scaling agile frameworks, and navigate the complexity of large-scale technology initiatives is appealing to many organizations. However, this tool also raises questions, such as: What does Jira Align offer that Agilecraft didn't already offer? How is Jira Align different from Advanced Roadmaps? Which option is right for me?
In this blog post, we will try to clarify those doubts. To do so, let's start by defining what is this product that promises to connect your commercial strategy with the technical execution of your team:
What is Jira Align?
Jira Align is an enterprise agile planning platform that connects work with product and program portfolio management at scale. In addition, it allows you to connect and organize data through the creation of real-time reports on every aspect of your entire organization. This means that each profile involved in the process will be informed in the way it needs to be informed.
Jira Align helps software organizations transform the way they plan, deliver, measure, and learn throughout their development lifecycles.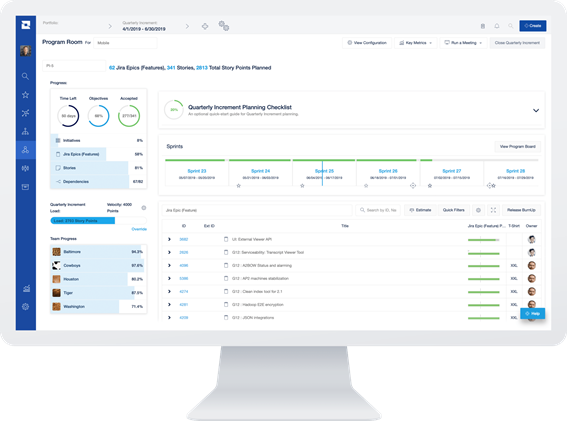 As we can see above, one of the most attractive features that Jira Align offers is its ability to generate reports (more than 150 by default) in real-time with information that meets the specific needs of each role involved, from traditional agile team metrics to more tailored ones. In addition, Atlassian offers Jira Align BI, a solution that allows you to combine your BI data in the tool with other data sources such as Tableau or Spotfire, which gives analysts access to the data in Jira Align through a data warehouse and tabular semantic models with pre-built relationships and aggregations.
Learn how to export your project information from Jira Software to Power BI >>
The difference between Jira Align and Jira is that Jira connects teams to each other, while Jira Align connects teams to the business. Large enterprises (AT&T, Anthem, Spotify...) use it to ensure their teams have the necessary visibility into real-time product roadmaps, planning, dependencies, and more.
However, Jira Align integrates with Jira, and it is very likely that if you are reading this, it is because you already know Jira Software or already work with the product. According to figures shared by Atlassian, 80% of customers already using Jira Align also use Jira at the team level, proving that this is an integration that works solidly and is set up for the long term in implementations that last for years. This integration is more than a field mapping, it introduces logic that detects anomalies and synchronization possibilities between the two tools, allowing to improve inconsistent practices.
Which advantages does Jira Align offer for large enterprises?
Within Jira Align, each of the steps in the escalation process is connected, which in addition to being based on agile methodological frameworks (mentioned below) allows the synchronization of the team according to their respective competencies. This will allow, in turn, to determine the scope, path, and dependencies of each team/product/service:
5 advantages Jira Align offers from a business perspective:
Aligning technical teams with business strategy: It offers the ability to quickly reach consensus on roadmaps, determines the scope, and identifies dependencies between teams and products and/or services.
Speeding up time to market, identifying the workflows that enable decision making based on work prioritization and faster delivery.
Delivering value through reporting: This will enable each team across the enterprise to demonstrate how the implemented improvements have reduced time-to-market, or how through continuous improvement, lead times are being reduced, which will enable data-driven decision making.
Making visible the work and purpose of your work and that of your colleagues: The Jira Align platform maintains the alignment of teams and people across the enterprise.
Offering more value to your customers: By connecting strategic investment information from a business standpoint with the actual value needed by the customer, based on product team research, it will be inevitable to reliably drive results.
4 advantages Jira Align offers from a technical perspective:
Provides better capacity to prioritize work. The tool allows automatic push/pull sorting to and from strategies, investments, and teams.


It's possible to manage dependencies. This enables the suppression of delivery failures caused by interconnected dependencies. Jira Align allows you to visualize, manage and address bottlenecks proactively and in real-time.


For there to be real alignment, communication must be fluid, that's why this tool provides greater ability to communicate the strategy behind business changes. This allows you to respond proactively rather than waiting for direction.


Supports the use of existing tools, Jira Align represents an extension of the existing development infrastructure for the teams, providing greater visibility of the product team's work while minimizing disruptions to the team's workflow.
Due to the benefits and advantages that this tool brings, you are probably wondering
how Jira Align differs from Advanced Roadmaps

. We can sum it up for you as follows: Jira Align helps you solve your business agility challenges by connecting strategy to execution and measuring results, Advanced Roadmaps helps you visualize the work happening inside Jira Software. It's ideal for agile teams, but that goes all the way down to the program level. We will expand on the differences in future posts.

Jira Align offers flexible support for the most popular methodological frameworks

, as well as allowing the configuration of hybrid and customized frameworks developed in-house, as it allows for the terminology to be adapted. Among them, it supports:
SAFe (Scaled Agile Framework).
LeSS (Large Scale Scrum)
DA (Disciplined Agile)
Scrum@Scale
Spotify
Custom or hybrid frameworks
Who benefits from Jira Align?
Short answer: Jira Align benefits everyone in your organization, and if we drill down, the tool keeps teams working on Jira Software while extending coordination and planning to the program, the portfolio, and the entire enterprise, i.e., Atlassian product benefits:
Portfolio Managers, enabling them to communicate the value of financing strategic initiatives to investors, analysts and employees.
Executives, providing them with the ability to connect strategy with execution to drive the business value of their high-level mission and vision.
Delivery Teams benefit from executing and communicating the work of the sprints that concern the high-level strategy within the company.
Program Managers and Release Train Engineers, as it allows them to ensure that programs run smoothly and resources are allocated effectively, which helps them to deliver on time.
Product Managers can manage new ideas, prioritize feature backlogs and track progress with real-time roadmaps.
Transformation Teams can drive digital transformation in a simple way by applying the convenience methodology framework (see above for accepted frameworks) to scale in an agile way in your business.
Does size matter? Details about Jira Align security and scaling within the organization
Jira Align is a tool that Atlassian has adapted, and was originally designed to scale agility within enterprises, thus adapting to organizations the size of customers such as AT&T, Anthem, and Fidelity.
How secure is Jira Align?
In the Cloud-based architecture, it allows the tool to scale on-demand, providing consistent performance and reliability. For those organizations that need to meet specific security and compliance requirements, it is also available for private cloud deployments.
We cannot leave aside the Data Center

, which applies the highest security standards for physical, network, server, and app security, plus details on data redundancy measures and information security policies to ensure data integrity. Add to that all the rigorous certifications that Atlassian has had to pass, which are
the same security audits that major financial services institutions around the world go through

.
What type of organization is best suited to start working with Jira Align?
Organizations with more than 1,000 people are usually the most suitable, however, the tool can also be a good option if:
You are working to align the work of teams, programs, and portfolios.
You are working with the leadership to standardize tools and reporting across many agile teams (50+).
You would like to visualize and align the work of multiple programs or ARTs in your organization.
You are connecting the work of the teams to strategy and funding at the portfolio level.
You are using a scaled agile framework or are creating your own to enable agile/digital transformation.
If we have not yet satisfied your curiosity about this Atlassian tool and you think that according to the information we have provided you, Jira Align is a solution that will allow you to solve your agility challenges, we invite you to contact us as follows: