Get to know which Jira project reporting mechanism is more convenient for you: the natives available in Jira Service Management or customizable options provided by Atlassian Marketplace apps; in this case, we'll be talking about the possibilities you can achieve to report for IT Service Management projects by integrating Dashboard Hub and Projectrak for Jira, accompanied by Jira dashboards examples you can build with these solutions together, let's keep going!

Within many organizations, the most common projects support internal IT service requests and customer requests. These types of projects keep daily processes going and play a key part in a customer's experience and their buying decision. That's why reporting on these projects is part of the daily routine for many IT and customer service managers. They help in decision-making, communication, coordination, and planning. In order to fill all these needs, reports must be easily accessible to the right audience for the specific purpose.
Reporting in Jira for IT Service Management
Jira Service Management (JSM) provides out-of-the-box reports at the project level and dashboards at the global level. Both use SLAs (service level agreements) defined in your projects.
Project reports allow you to visualize trends within your projects. E.g.:
Workload: number of requests assigned to your agents.
Satisfaction: the average customer satisfaction rating.
Requests deflected: number of views of the knowledge base articles that prevented a new request in the portal.
Requests resolved.
SLA success rate: the rate at which your team is meeting their SLAs.
Time to be done: how long it takes the team to finish the requests.
And more!
Take as an example the "Created vs Done" report as a way to assess the "support debt" (an analogy with technical debt) or the health of the support team. We could infer patterns and decide that we might need more agents in this project if the difference created vs done keeps growing. Or if there's a spike in created requests due to a recent marketing campaign. See Atlassian's documentation for further information on service project reports.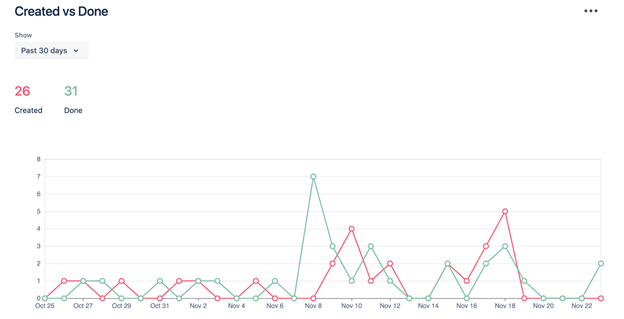 Created vs Done report in a Jira Service Management project.
Jira Dashboards are handy when you need to report on several projects at once and create a high-level overview of your project portfolio. Dashboards are composed of gadgets, which are smaller pieces that display information, charts, metrics, and other data to create meaningful reports. By default, two gadgets are provided for Jira Service Management: Filter counts (it displays the number of issues that specific criteria meet) and Service project report (displays a pre-defined or custom report from a service project). Those two gadgets alone allow you to create ITSM dashboards like the one we display next. See Atlassian's documentation for further information on Jira dashboards gadgets.
Learn about another way to use Jira Dashboards to track multiple projects >>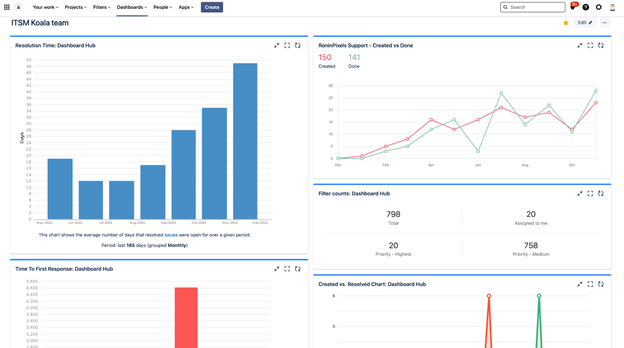 An example about a Jira Dashboard for an ITSM team named "Koala."
Enrich Jira Service Management projects with key information
Projects fulfill a function to keep the information centralized and organized in order to deliver a service on time and on a budget (and to be considered successful, of course). For this to happen, key information has to be tracked and monitored at the project level, such as project status, budget, or stakeholders among others.
Jira allows the configuration of the key, name, category, project lead, and default assignee at the project level. But many projects require additional information like a deadline, priority, notes, or time logging, which are typically needed for proper reporting and control.
Share Jira Service Management reports with your customers
Reporting isn't just a tool for internal processes, but also part of the service you provide. This is more noticeable when our organization provides premium support with a dedicated team, higher SLAs, faster triaging and resolutions, etc. With this service, your organization has to provide recurrent and up-to-date reports, not only for the sake of transparency but also for a professional and complete support solution.
Jira Service Management currently doesn't provide such capability of externally sharing reports

, and some companies rely on the good old trick of taking reports screenshots, creating a pdf, and sending that by email every week or month. Bummer! Not just that, it's a complete waste of time...
To overcome these two limitations

, regarding key information at the project level and externally share reports with customers, DEISER and Appfire present a new integration: Projectrak for Jira Cloud and Dashboard Hub for Jira - Reports & Charts.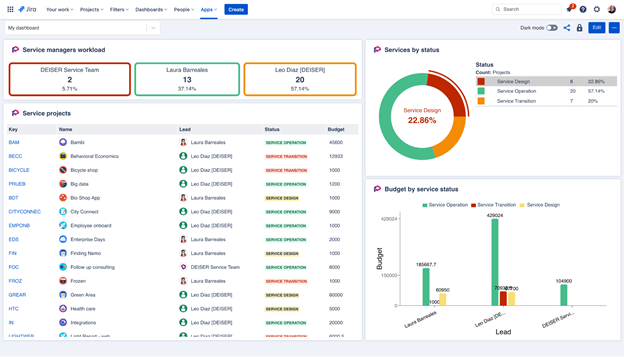 A Dashboard Hub dashboard featuring four key insights from projects enhanced by Projectrak information.
Learn more about the integration of Projectrak and Dashboard Hub >>
Projectrack for Jira Cloud: Gain control to track projects at scale
Projectrak Cloud
is a project tracking solution for Jira that brings better information control and allows data-driven decision-making

consequently. When it comes to Jira Service Management, it solves different challenges when keeping employees' and customers' services workflow in sync, improving team communication, project performance, efficiency, and service delivery.
Specifically, Projectrak helps to obtain a better team management control within Jira by centralizing, organizing, and categorizing the information, assists in better tracking support services by monitoring customers contracts outside Jira, it reduces meetings by automating services project communications and updates with correspondent stakeholders, and also offers real-time reporting for different projects.
Dashboard Hub for Jira: External and secure sharing
Dashboard Hub for Jira simplifies the process of creating reports and dashboards for different products

(Jira, Confluence, Insight, Statuspage, Bitbucket, Opsgenie, Projectrak) thanks to the predefined dashboard templates, custom charts, and more than 60 metrics for ITSM, DevOps, or Agile teams.
And not only that, it allows secure external sharing of these dashboards as you can see in

this dashboard

. This dashboard is in a private Jira instance, where you won't be able to see any further information that is not shared. But still, you have access to ITSM metrics updated in real-time. And all it took was two clicks:

In the third slide, you'll see a gadget called "Projectrak: Project by status", which leverages the power of Projectrak to report on the project portfolio.
Reporting for IT Service Management projects
Reporting on Jira Service Management it's important, we've shown you how through two different mechanisms:
Reporting at the project level.
Dashboards at the global level.
Both mechanisms are fundamental for ITSM teams

even though sometimes it may require even more for their professional premium service.
Projects demand information to properly control their success and customers call for transparency and updated information in the services they receive. The joint capabilities

of Projectrak and

Dashboard

Hub for Jira overcome both shortcomings and supercharge your solution with extra benefits (both apps are available for Server, Data Center, and Cloud).