The Atlassian Cloud migration represents a positive turning point for teams in terms of productivity, speed, and costs, and it's available for different plans for Jira Software, Jira Service Management, Confluence, and other Atlassian products. If you are considering switching to this option, we have prepared a series of questions that will allow you to evaluate if you are ready to migrate to Atlassian Cloud or not.
It's ok if you're not sure about migrating to Atlassian Cloud. There's a lot to consider first, and before making the decision, it's important for you to evaluate the current state of your software and the option you want to move to.
Atlassian Cloud allows to scale faster, reduce costs, improve productivity and performance, and boost a collaboration culture while in a safe environment.
Common reasons that have led companies to migrate to Atlassian Cloud
Living in an ever-changing world, companies must innovate faster and remain relevant and competitive. That's a challenging vision to achieve when life goes by manually updating and maintaining your software tools. After all, it's not crazy that three-quarters of companies are in the process or have already migrated to the cloud.
Another reason driven this change has been the need to work from home in recent months. Yet, another has been the speed of smaller competitors: they are native to the cloud and are constantly eating up the market share of more prominent companies.
Working with Cloud offers greater freedom, provides resources on-demand and does not depend on a toolchain, as would be the case with other options. Besides, it reduces products and services time to market delivery and adapts to its changes with ease.
It all comes down to raise awareness about the productivity increase the Cloud represents, the lack of it costs approximately 7 million dollars every year to companies.
4 Reasons to migrate to Atlassian Cloud
The options offered by Atlassian Cloud regarding user management, security, integrations, and pricing are attractive (although at first glance, it may not seem like it). We are going to review this offer in detail:
1. User management is centralized
With Atlassian Cloud, it's easier to manage users because user management is concentrated in a single place, where user accounts are managed and at the organization level rather than product by product. Groups and access are managed at the product level.
If you find your capacity in user management limited, Atlassian also offers Access, a tool that allows you to control, monitor, and standardize the security and access of all users. You can learn more about this option in the Atlassian documentation.
2. Security, compliance, and reliability parameters are universal
Is Atlassian Cloud secure? Well, they are GDPR, ISO, SOC, and Cloud Security Alliance compliant by default. In fact, according to a survey TechValidate did, 92% of IT organizations using Atlassian Cloud have said that cloud security is the same or better.
Atlassian has also incorporated Right To Be Forgotten (RTBF) and data residency controls that allow you to choose where to host content, attachments, and user-generated metadata, which does not increase infrastructure or overhead. At the Atlassian Trust Center, you can find out the details, and we have summarized the most relevant topics for your convenience.
In general, Atlassian products are designed to offer higher performance and availability. They are also based on technologies such as AWS, not forgetting that the products come with financially backed SLAs for Premium and Enterprise customers.
3. Atlassian Cloud plans and pricing
Cloud plans are mainly differentiated by the number of features and prices, which adapt to the needs of each team and their sizes: from startups to large companies.
The Atlassian Cloud Premium and Atlassian Cloud Enterprise plans outstand the others; those include benefits such as IP permission lists, change management functions, and the assistance of dedicated support engineers that Atlassian has appointed to meet the needs of large and demanding teams regarding security and user management. The free and standard plans are usually the plans that most small and medium-sized organizations consider.
4. Atlassian Cloud Apps: The Marketplace and Forge
For those who need to customize the tools and adapt them to specific use cases, the integrations with the apps available in the Atlassian Marketplace, such as Projectrak or Exporter, are a practical resource. Another option is to benefit from the advantages offered by the Forge platform, which allows you to create, test and deploy your apps with the feature to adapt to the processing and storage capacity of Atlassian Cloud.
Having considered these benefits of the Atlassian Cloud, now's the time: Let's review the questions that will allow you to evaluate if you are ready for and Atlassian Cloud migration:
Are you really ready to migrate to Atlassian Cloud?
First, answer these six questions:
Being aware of the requirements needed to migrate to Cloud and defining some parameters will determine if you are ready to migrate. Determine your budget, when you would like to do it, who will help you - inside and/or outside your organization, and what additional equipment you will need. Let the planning begin!:
1. What is your schedule?
The schedule varies depending on the size and needs of each organization. In which group do you fall? Large companies with several Atlassian products usually take between 6 months to a year or more. On the other hand, smaller organizations with simpler setups, a few weeks. Other factors to consider are the number of users you need to migrate and the complexity of the business processes.
To help you estimate your timeline and plan, think about the following factors and evaluate them according to your situation:
People: Do you have the support of the leadership? Will your Atlassian Tools administrator focus primarily on this project, or will he also have other work to do? Will your administrator tackle this project independently, or will he have an exclusive team to help him with the migration?


Data: Do you think you should first clean up or organize the data you no longer use? Have you customized your products and processes so that the data will not flow directly to the Cloud instance?


Apps:

This is a crucial step when assessing your migration to the Cloud

to avoid future headaches. You need to review the documentation of each Server/DC app feature parity availability in the Cloud. Be sure you're answering the following questions:

Are all the Atlassian Marketplace apps that you have on your Server instance also available for the Cloud?

If not:

Have you evaluated that the functionality they cover in Server is already covered in Cloud?
Have you assessed whether another app can do the job or not?
Are there any additional apps that you would like to add once the migration is complete?

We've made an emphasis on this bullet point after receiving this "Wizard" recommendation on Twitter:


Testing: Will you need to set up a testing environment? Do you have many complex and critical processes that need to be tested before implementing the change?


Stakeholder management: Are end-users ready for the change? Have you enabled specific communication and support channels where users can solve their questions about the change?
As you can see, a wide range of situations must be considered when evaluating the launch of a cloud migration process. Let's continue with the costs:
2. What is your budget?
We know that migration implies a high upfront investment. However, that same investment implies cost savings at a minimum term of two years in the future, when the return on investment is evident, or at least it is the moment where the scale begins to balance. The change also drives the license payment structure from an upfront annual (as was the case with Server) to a monthly or yearly subscription payment.
Be sure to check with a member of your finance team, or our Atlassian licensing team, to find out if and how your budget could be affected to avoid accounting problems from the start.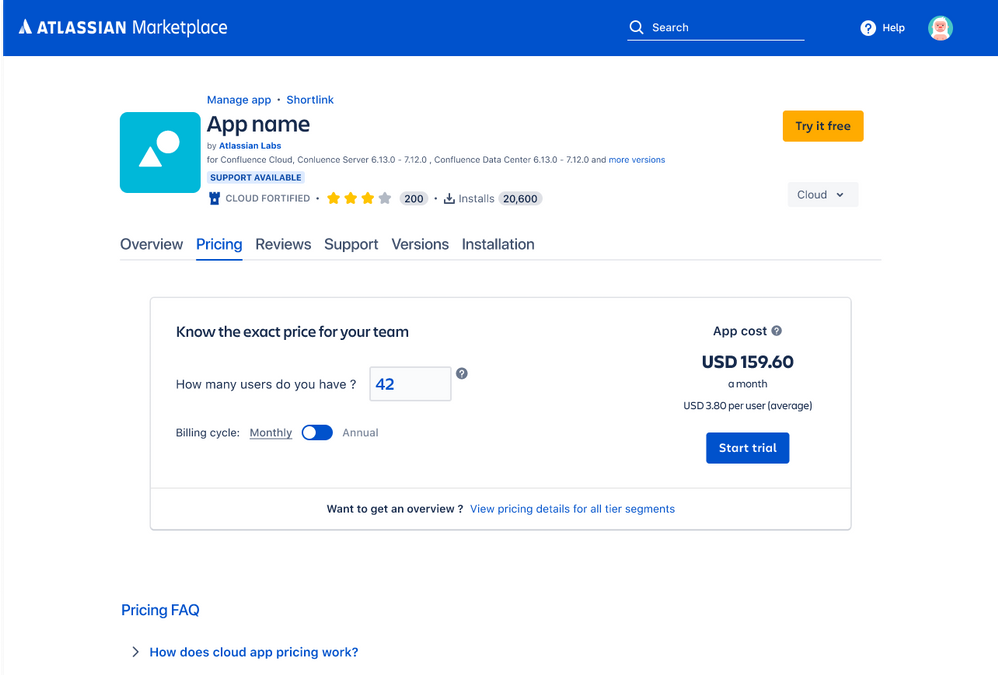 The Atlassian Marketplace apps cloud calculator.
A recent Atlassian announcement will help us with budget calculation matters. They have implemented the Atlassian Marketplace calculator that allows determining the total monthly or annual cost of any given app according to the number of users you need per app: indicate the number of users you will need for your instance, and the calculator will provide the total cost, as pictured above.
Also, if you need to check the pricing details for trier segments, you can click on the link below the calculator, and it will be displayed as shown below: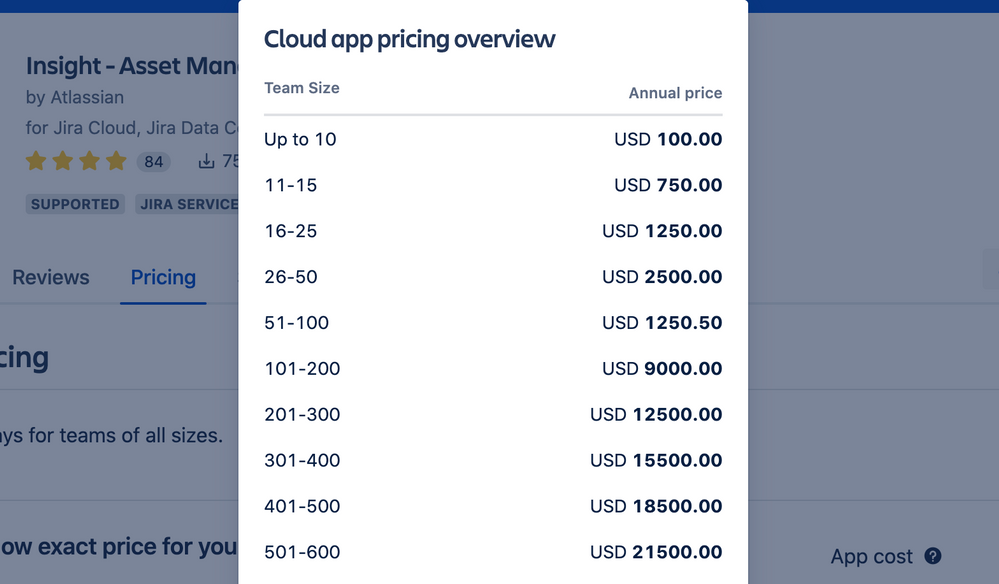 Pricing details for Atlassian Marketplace apps trier segments.
If you can't see this feature in the Atlassian Marketplace at the moment, no worries, it will be a matter of time. The Atlassian Marketplace is currently rolling out this new feature to the Marketplace, as well as its new design.
3. How many Atlassian users and products are you considering migrating?
Given that the investment is considerable, you should be very sure about the Atlassian Cloud products and apps you need. In addition, it's equally important to define who will have access to what before moving on to the next planning phase.
Invest all the time you need in this stage. The evaluation will determine whether if they will still need licenses for each product and apps that you currently have or not. Pay attention to details; it will help to simplify processes.
If you're thinking of migrating more than 1,000 users, get in touch, you will need specific guidance and assistance. Planning and executing your migration to Atlassian Cloud can be very complex.
4. Are the security, compliance, and privacy, enough?
The answer to this question will be useful to determine your needs. Therefore, they will help you determine which Cloud plan (Free, Standard, Premium, or Enterprise) best suits your organization's needs.
5. What are your goals for migrating and how do you measure success?
There are numerous reasons why migrating to the Atlassian Cloud is necessary, which is understandable in today's landscape, where a runaway global event impacts thousands of businesses.
The ability of a competent company is reflected in its ability to adapt quickly to change and thereby stay ahead. Among your goals, you should consider the following:
Reducing overall costs to redirect time and money on more strategic initiatives.


Growing faster and more sustainably through faster product launch cycles and accelerating onboarding of new hires.


Involving administrators in projects of higher commercial value, since they will have more time, instead of spending their time on software maintenance.


Accelerating end-user productivity and support collaboration between teams geographically located in different locations.


Minimizing downtime and improving performance to reduce costs and build confidence in products and services.
In this situation, defining one or more objectives (quantitative and qualitative) will be the right measure to determine your success.
What project information is relevant to monitor in Jira? >>
6. Who should be involved?
Considering the size of your company, users, and resources available will determine the complexity of the migration and which roles will need to be involved. Among the most common profiles involved in this process are:
The Project Owner will drive the migration process from the beginning to the end.


An approver. This role will be the one that approves important decisions.


The technical team members are involved in the migration project. They must have specific knowledge of subject areas, such as database administration, security, user administration, contracts, licenses, and Atlassian products configuration knowledge.


Personnel from the Legal, Finance and People teams are required to intervene in the process. Also, involving end-users will help in the testing and evaluation stages, ensuring the new Cloud configuration will be satisfactory.
A thoughtful answer to each of these questions will define your next steps: creating a strategy for the migration process to the cloud, and subsequently, taking action. These are steps in which we will try to guide you in a series of blog posts that we are producing with the support of Atlassian itself.Atlassian Marketplace apps cloud calculator