In this article, you will learn how to pump up your project communication by using Jira project notifications to effectively stay informed about the progress, and that way obtain the most possible value out of the notifications within Jira when monitoring projects.
A few weeks ago we published an article that referred to the importance of data and why it's essential in the tracking of projects. Today, we're going to illustrate how project notifications or alerts will boost your project communication, and learn how to stay on the loop. Before we start, let's review the concept of alerts.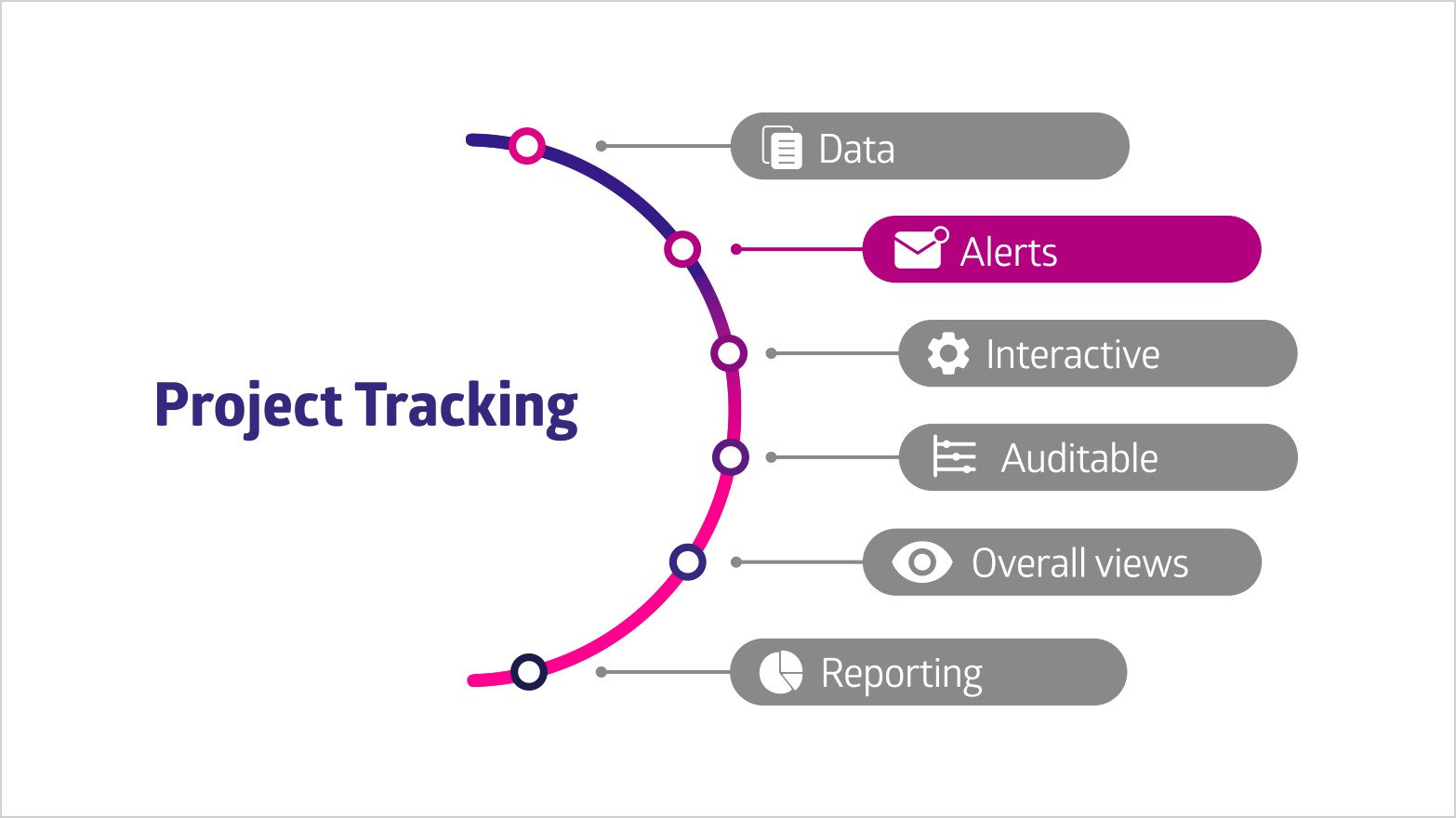 As The Project Tracking Bow indicates, we'll explain why the Alerts are considered as a pillar within the project tracking activity.
What is an alert?
Notifications are the mechanisms software tools offer to people to be informed about specific information, it could be about the process taken within the tool, or about the tool itself. So, What are the types of alerts? There are three types of alerts:
In-app notifications: Often they had the format of a pop-up or are usually shown as an express notification, somewhere, directly in the tool. In the Atlassian tool Confluence, we can show an example of this type of notification: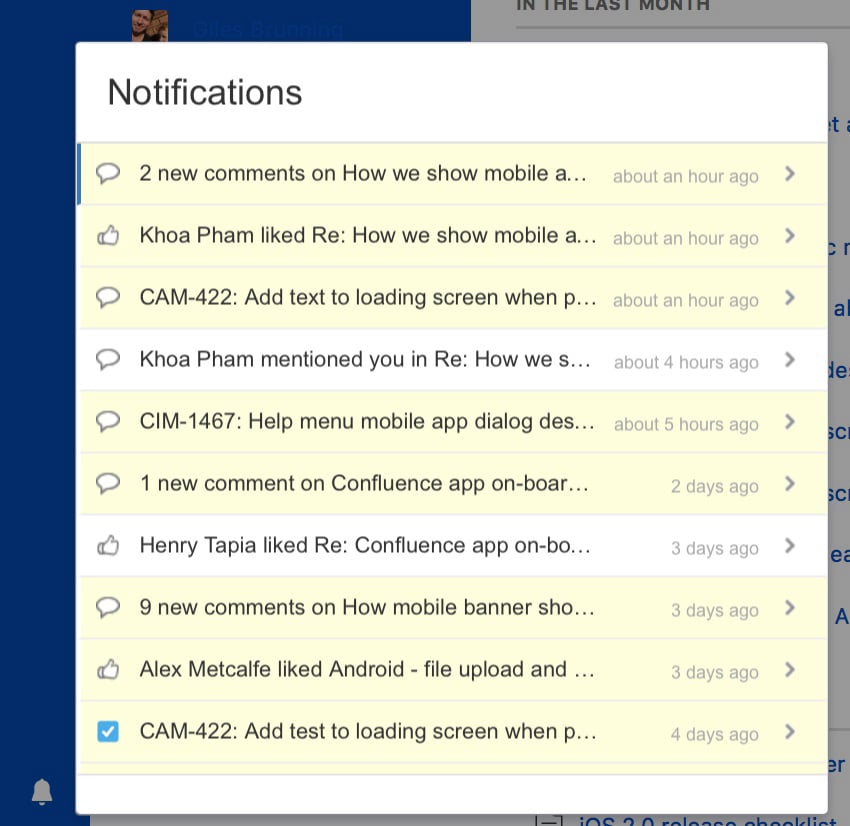 This is how the notifications appear in Confluence.
Notification by email: This is probably the most common notification mechanism that exists, it can be divided in two types:
Notification by action: The system sends a notification after an action has been taken.
Notification by subscription: The software tool sends an email containing specific information, at specific times as the one you can see below: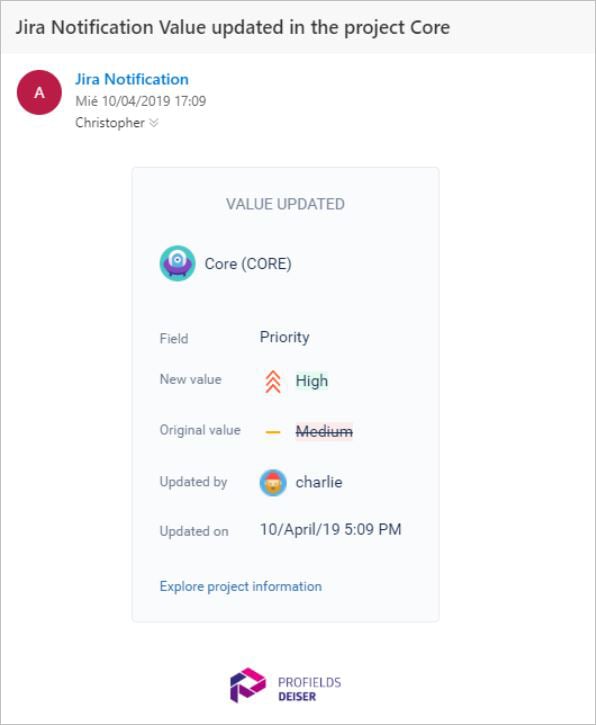 Projectrak for Jira (formerly Profields) sends an email notification every time a change has been made in any of the projects you're tracking.
Notification by message (SMS, Microsoft Teams, Slack, Whatsapp, etc.):Every day, more companies are using software collaboration tools with strong chat features such as Teams or Slack, this means that we spend a large part of our time using them and, as a consequence, people configure notifications on these tools for the sakes of having all the information in just one place.

Message notification in Microsoft Teams about a Jira project by using Projectrak.
Notifications are a fundamental part of project tracking, they are important in the reactive part of monitoring, since Project Leads, Product Managers, and Managers in general... must have mechanisms to be updated about what's going on without constantly logging into the software tracking tool.


How to stay informed about your projects in Jira?

We will explain, through three examples, how to stay up to date about the progress of your projects or products in Jira using Projectrak: Two examples will be illustrated with email notifications and the other one will be illustrated with an alert notification (it's important to remember that neither in Jira nor Projectrak have in-app alerts. There're Atlassian Marketplace apps providing this specific feature):
1. Monitor projects and get a notification every time a change happens within them
In Jira, you may have more than one project, and probably you won't be interested in getting in detail on what's happening to each of them. For this reason, with Projectrak is possible to keep track only of those projects you're interested, by checking the "Watch Project" option:

By checking the "Watch Projects" option in Projectrak you'll receive an email with the changes in the projects you chose to "watch".
From that moment on, you'll receive a notification every time someone makes a change to the project (if several changes are made in a short period of time, you will only receive an email with all the changes). In this way, you will be informed at all times about what is happening within your projects: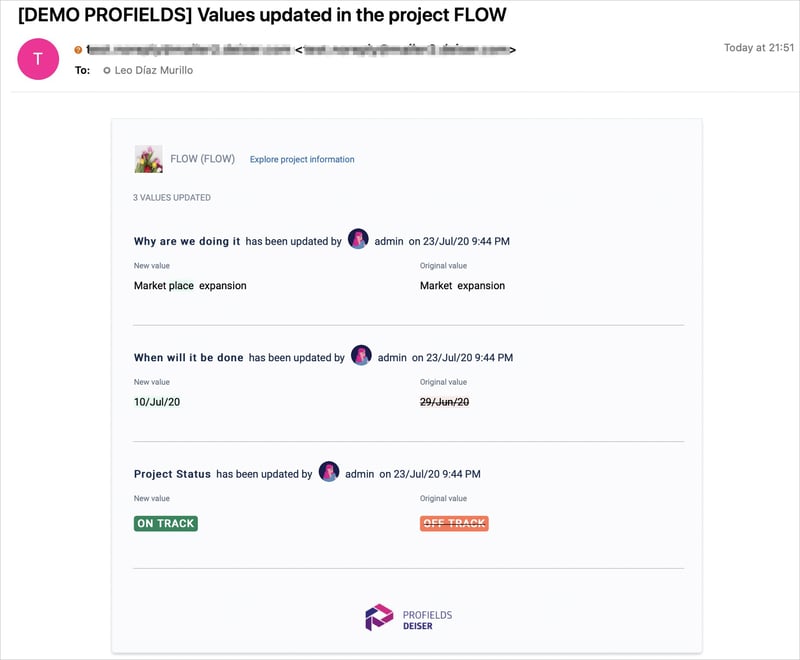 This is how the email notification with the changes in the projects you've chosen to "watch" will look.
2. Subscribe to the projects of your interest
When you're a Project Lead of multiple projects (too many!), probably it's not productive (or healthy) to be informed about every small change among your project portfolio, making use of the Projectrak project subscriptions represents a solution (if you know how Jira works, this will be very similar to Jira). Create these subscriptions right from the List View, one of the Project Navigator views. In the following screenshot you can see how to schedule these type of project subscriptions: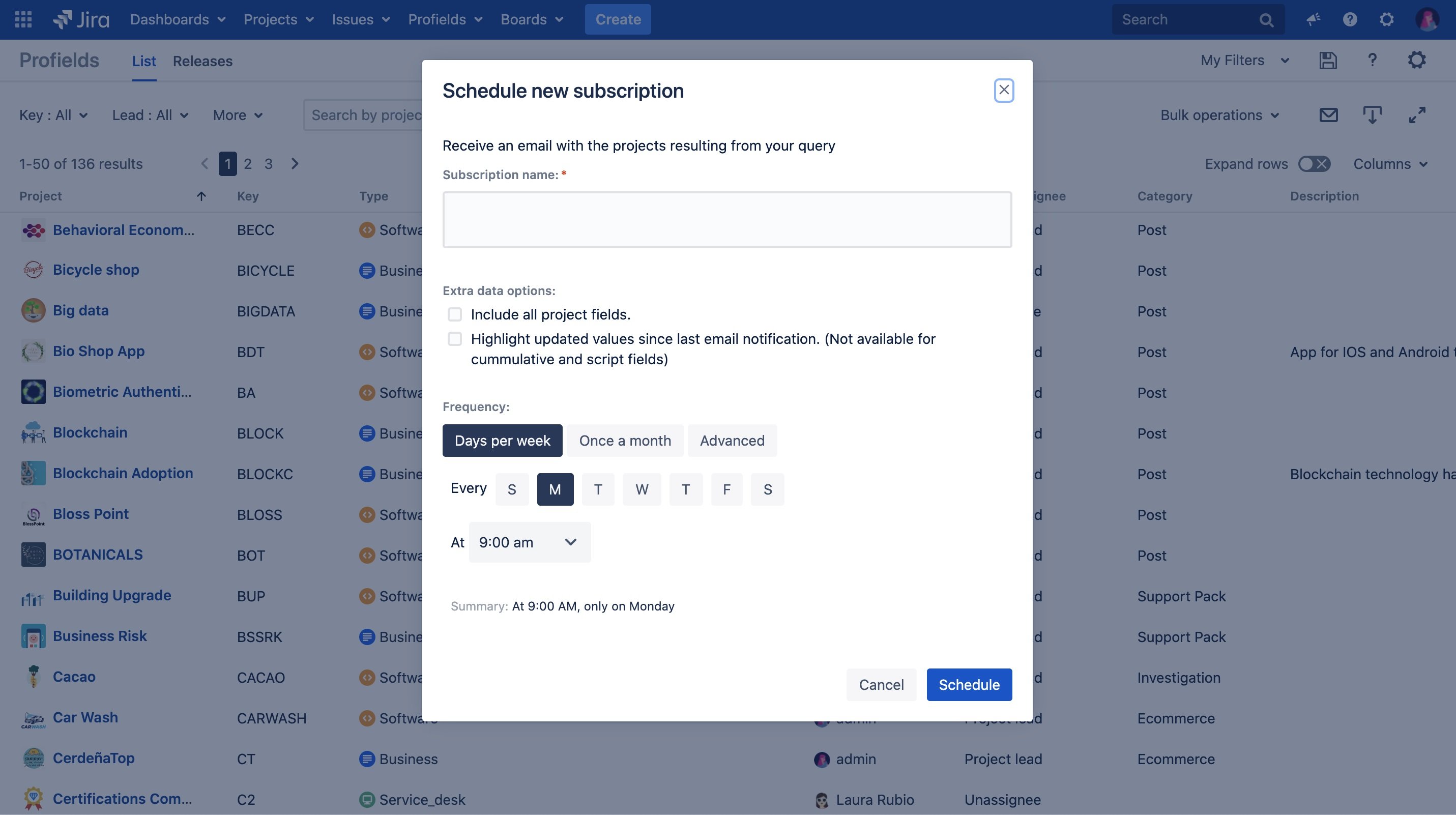 Choose the time and date when you want to receive information about your projects in Jira.
Deciding when to receive notification about your projects in Jira with the list of projects you're tracking, and the current updates of their fields, it's pretty much simple.Take a look at the email you will receive with the updates made within the projects you have chosen to supervise: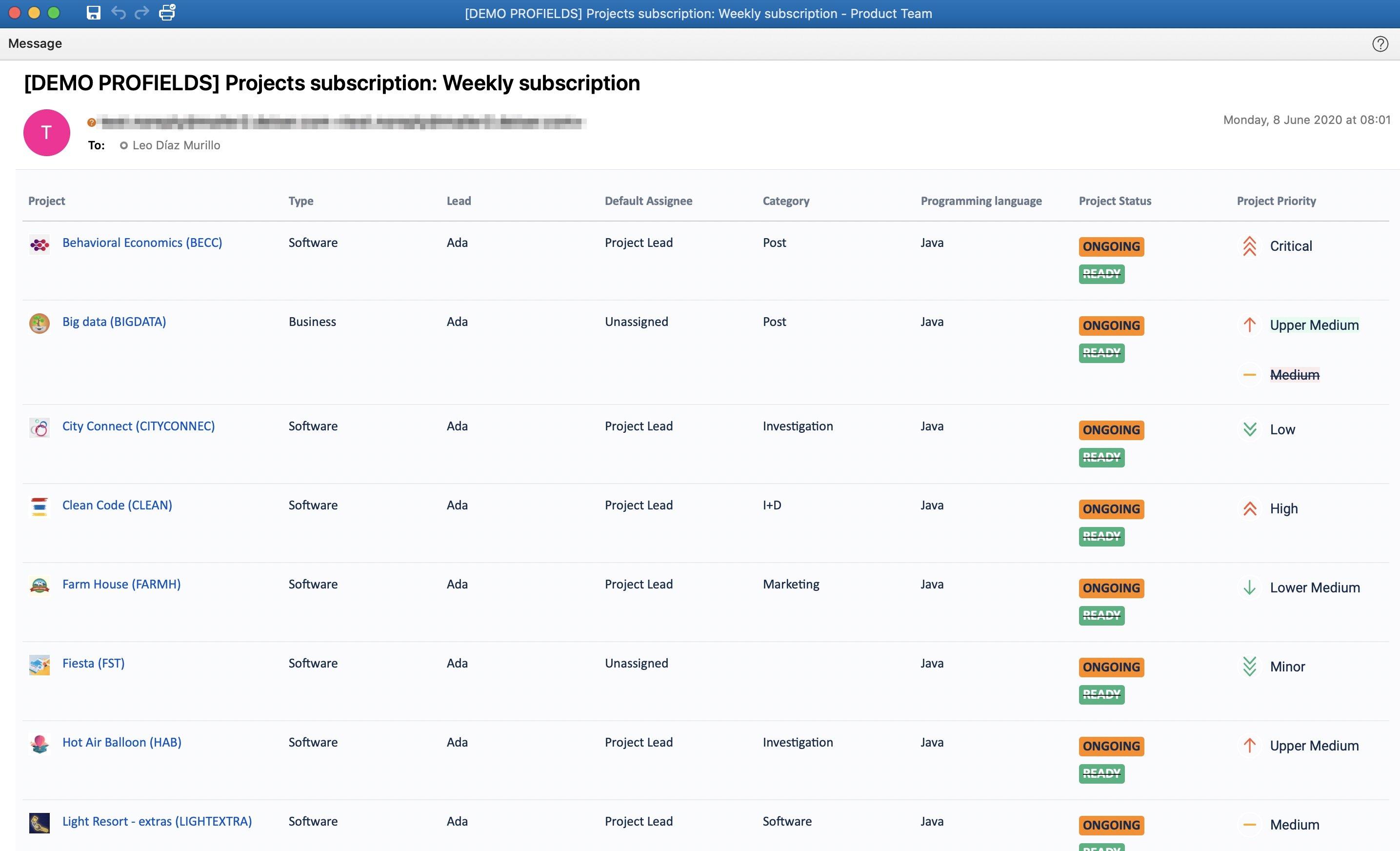 3. Setup notifications in your communication software

Tools such as Slack or Microsoft Teams are more than chats, they're collaborative tools with strong chat features, because of this, these type of tools have become the center of notifications for many companies. For these companies, the use of email has even been left behind for the most formal notifications, leaving the most asynchronous notifications in the enterprise communication software. Learn how we classify our communications at DEISER.
In this context, it's a major advantage for Project Leads, Product Managers, etc., to track their projects supported by notifications from Slack, Microsoft Teams, or whatever your communication collaborative software is.
If you are using Jira and Projectrak, together with Automation for Jira is possible to automate these notifications to you communication software when something changes in your Jira projects. The next step would be to configure the settings on how these notifications would look like in your communication system (Microsoft Teams, in our example), e.g., each time that a project is created in Jira: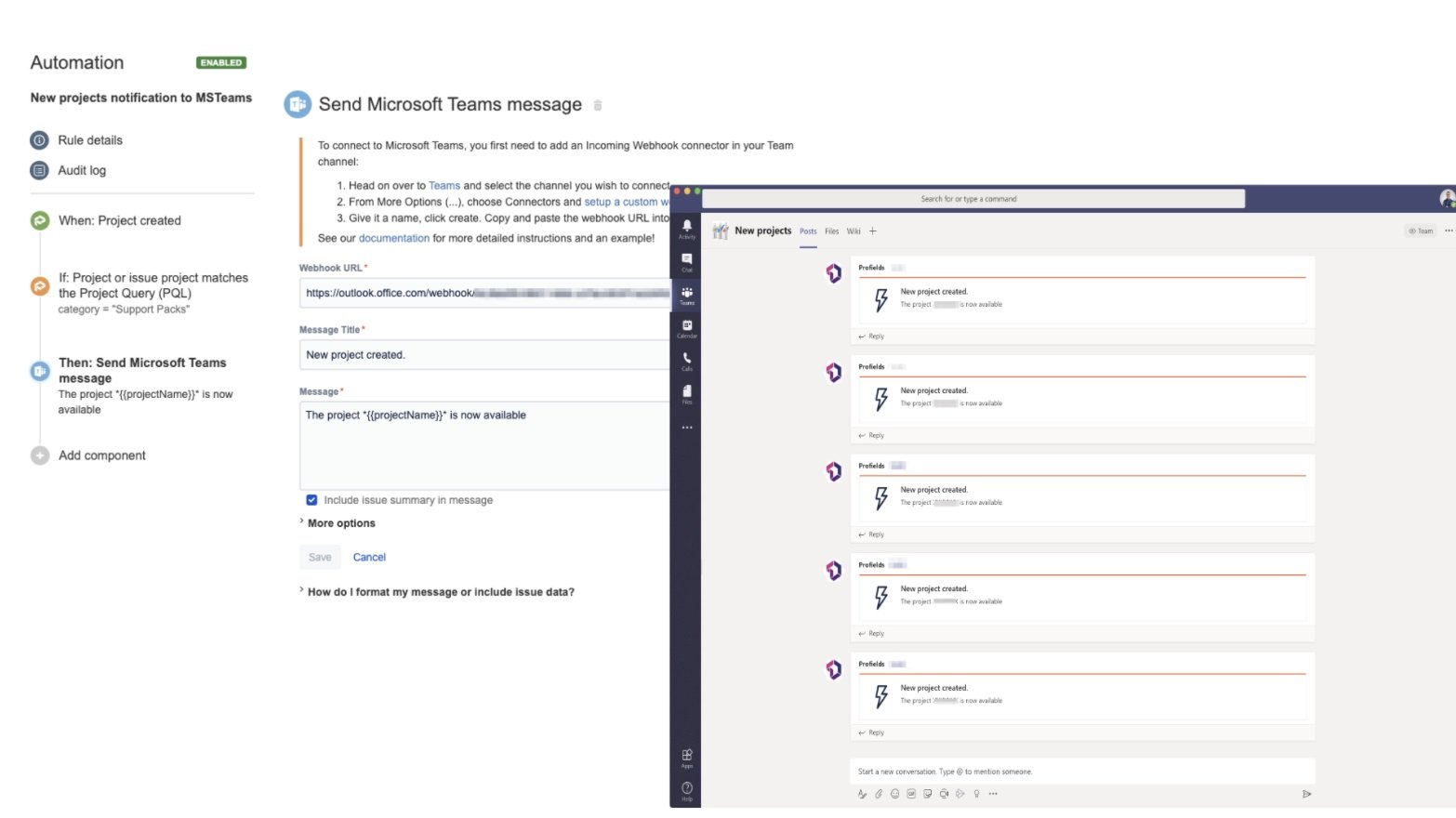 A brief summary about the steps you need to take in order to automate notifications in your communication software with Jira, Projectrak & Automation,
There are several possibilities to be informed at all times about what is happening with all of your Jira projects. We hope that this article will help you to be aware about the alternatives available to set up notifications and thus achieve an effective tracking of projects.
Read this article to learn how to setup these notifications. On the other hand, if you would like to know which options you have in order to automate notifications or tasks around your projects, download the following guide where we offer you with seven different use cases on how to do it successfully.