Jira has become the standard collaborative work management tool for developers and that's a great thing for team productivity.
Now, what comes down when Jira Admins, Project Managers, and/or Project Leads need to track projects in Jira? Here we will show how.
Jira Software as any another Atlassian tool is still becoming as the favorites for agile planning tools, as can be seen in this Gartner magic quadrant, however, at the moment of using Jira into the project management discipline is quite a challenge. Let's begin from the start:
The debate of Jira as a project tracking software solution for Project Managers
Away from the devs perspective, many Project Managers are not that happy with Jira. Software developers have embraced agility and thrown away the traditional notion of a project. One of the reasons they like Jira is precisely because it disregards basic project management ideas in favor of a continuous flow of collaboration.
Start tracking projects using Jira!
Admittedly, this is a simplification:
Developers are still talking about projects in one way or another (see this example, or this Khan Academy lesson), and organizing a large part of their work in projects, even if they don't always follow PMI standards.
When the corporate tool doesn't support their project management needs they find a way around: storing project documentation, reports and post mortems in Word, Excel and corporate wikis – including Confluence. Generally speaking, project managers don't like having information scattered, and would rather have stronger project entities within Jira to make this happen.
To add insult to injury, Jira's popularity is eroding traditional project management well beyond the realm of software development.
In fact, many companies today (starting with banks!) think of themselves as having a software foundation. This helps Atlassian's expansion into business areas and corporate territories where a traditional approach to projects used to be in high esteem: business development, marketing, finance… you name it.
There's a big risk: when Jira lies at the core of a company's toolkit, Jira projects can be a limit to how projects are run and conceived in the entire company. Of course, that means that if your company runs projects, whoever is responsible for them may push back against the adoption of Jira. They may be project managers, but also PMOs, CIOs, IT Managers, among others.
So, the question here relies on how to make happy everyone involved in a Jira project and more than that, how to make them productive?
Why do Project Managers complain about Jira projects?
Jira is an issue tracker, and Jira projects are merely a way to cut off sets of issues, to tell them apart from other sections of work.
Projects in Jira are not very different to a bag full of issues with instructions for using what's inside them: there are rules for transitioning the issues, for what types of issues they can contain, for who can see them, etc., but there's nothing (or very little) attached to those bags. Some people say they shouldn't even be called projects!
What are the gaps in project tracking using Jira?


How it can become more useful? Here we mention a few things:


Neither start

date nor due

date.
No budget.
No dependencies between tasks.
No project-level reports.
No hierarchical team management.
Even sorting through projects becomes difficult once you reach a certain level (at DEISER we estimate the threshold

of comfort

at about 200

projects.)

No priori

ti

zation between projects.
Basically, the project as a control and management unit doesn't exist in Jira. And we are not even mentioning dependencies between projects, which are a cornerstone of project-based management and PPM.
Is it possible to transform Jira into a project tracker or not?

Well, ditching Jira is an option. But if you don't want to do that, the reality is that you're going to have a growing number of projects and no easy way of managing them and their information in the same tool. This is bad, even if you're not a PMBOK Guide enthusiast.
How to make project advocates happy while using Jira?
There are several ways to take this issue by the horns and find a way to make them feel satisfied with the tool. Here are some possibilities:
The corporate (Expensive!)
Buy a big enterprise PPM tool to account for your projects, then integrate to connect the work. This might seem like a great way out, but it will only be feasible if you already know how to do PPM. This is not easy.
The throwaway (Well...)
If project nostalgia is the problem, let's go back to a project management tool. This is a bit like the above, but simpler. Just get MS Project and map it onto Jira. Again, the problem here is that using tools with functional overlaps is always a headache.

The chicken way (Kidding!!)
Do nothing, let project managers fend for themselves. That's why they get paid, right? Perhaps you can pay them more to keep them quiet!
The way to transformation (This sounds right)
Use marketplace apps (add-ons) to transform projects in Jira into actual management entities that helps managers to track projects the right way.
How Projectrak is actually a solution to track projects in Jira?
There's a bunch of apps in the Atlassian Marketplace. There are even specific apps for implementing SaFE®! But we're going to focus in DEISER's Projectrak (formerly Profields) for three reasons:
It offers a global solution to the flaws of projects in Jira.
It doesn't require the

adoption

of any methodology or framework but still covers one aspect from the PMO.
It has been endorsed by Atlassian itself as a reliable solution to enrich project properties in Jira in Data Center & Server options.
Because you've got projects in Jira, Projectrak exists, in fact, this app for Jira was created as a tailored solution for one of the biggest Jira instances in the world as a project management solution. The beauty of Projectrak is that it cures Jira projects in Jira's own terms; in fact, its motto could be paraphrased as follows:
Do with your projects what you already can do with your issues.
The goal is to have a great issue tracker to please Developers, and also a great project tracker to please the rest of the people implied in projects. Here are the main features that create that balance:
Project Fields Projectrak incorporates
The core functionality and the origin of Projectrakis to provide a flexible interface to create, customize, and manage the information of projects in Jira, the most closest to the PMO as it's possible.
To make life easier, there are several types of customizables project properties that covers the most relevant project management needs, including:



Bulk Changes
In Jira, basic project operations such as deleting components and schemes or replacing project leads must be conducted manually on a single project basis.
With the Bulk Operations feature of Projectrak (formerly Profields), this productivity blocker is no longer there.
Replace a project lead when leaves the company across all the projects that person was involved, is way easier with fewer clicks and more ease.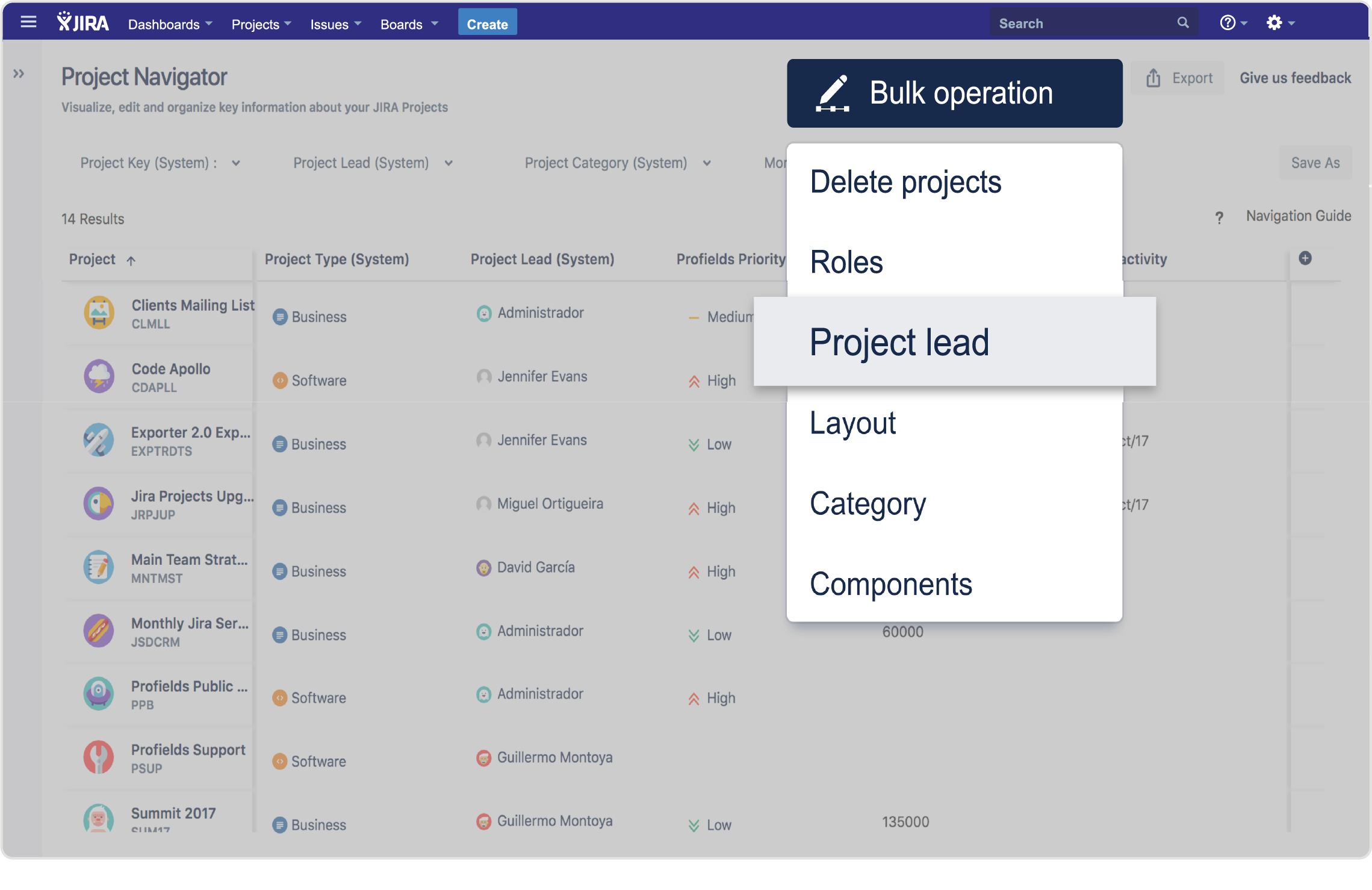 Learn more about the Bulk Operations, a Projectrak feature.
Project Navigator
Replicate the issue navigator, but for projects, so even the most gigantic project portfolio can be sorted by country, due date, technology, or any other relevant project property allowing to visualize and centralize the project information in just one place.
Within the Project Navigator, you'll have two different views:
List View

:

to make advanced searches and filtering, change notifications, perform bulk changes, and make project exports to see the needed information.
Releases View:

This view a

llows to visualize a timeline and navigate across past, present and future projects/products in Jira showing when each version starts and when it ends, showing an expanded view of project versions.
Email Notifications
Have you had misscomunications with your peers regarding the updating of their issues because you missread it in Jira? That's no longer a problem. Get notified right in your Inbox, get email notifications everytime a change you setted up has been made within your project.
Learn more about project subscriptions.
Project Query Language (PQL)
Queries for projects? Why not? PQL is analogous to JQL, the language any and all Jira admins know by heart. Additionally, Projectrak' Project Fields support JQL functions so users can find the issues that match certain project fields. For example, imagine you want to find all the bugs related to a given technology and a specific company location.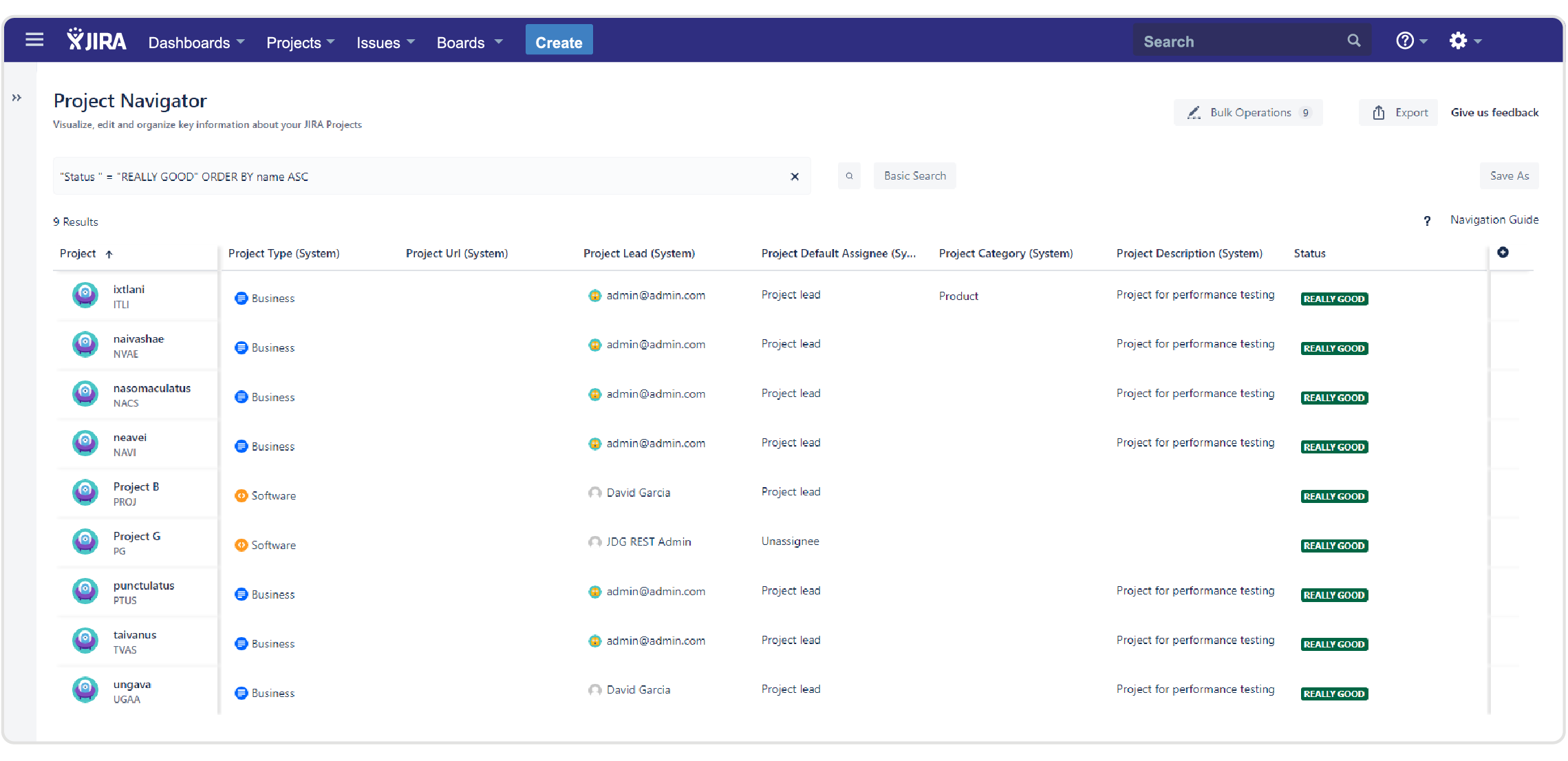 Learn more aboutProjectrak 7 (formerly Profields), there's more... watch this walkthrough