Get to know all the Atlassian news thrown during the four keynotes held at Team'22, where Cloud and collaborative software were the main characters. The Australian company has made announcements targeting connectivity between different tools, centralizing the work from your current tools within others, and more announcements involving the usual suspects: Confluence, Jira Software, Jira Service Management, etc. Find it out about it here.

This year, the Team, the annual event that Atlassian holds (formerly known as Atlassian Summit), shares news, bringing together its partners, customers, community, leaders, and stakeholders in ITSM, DevOps, and Agile from all over the world. It was held for the first time after three years in Las Vegas, United States.
A small fragment from the DEISER team was there as a sponsor and exhibitor (we'll tell you more in another blog post and video). We had the chance to share with other Atlassian ecosystem partners and show the new features and enhancements of our Jira apps, Projectrak and Exporter.
At this event, the welcome keynote is a must and entertaining, usually led by Atlassian's co-CEOs Scott Farquhar and Mike Cannon-Brookes, where the most valuable updates and news about the company, its tools, and its ecosystem are announced. However, this time we only got to see Scott, and instead of doing one keynote, they did four, each one corresponding to the topics to which Atlassian gives the most importance:
If you click on each topic, you'll watch each keynote on YouTube (except the work management keynote - available from the event portal). In the Team'22 portal, you'll find the different sessions and talks from speakers such as Jat Shetty, Bob Iger, and Atlassian representatives posted (for more technical matters).
In this blog post, we'll summarize the news Atlassian has announced during these keynotes from the software tools standpoint:
Atlassian Platform

Atlassian Platform is the name given to the series of improvements made across all of their products. They have focused on creating shared collaborative experiences to reduce friction when working with different people and teams. These aspects find support in Cloud infrastructure and are based on Agile, DevOps, ITSM, and Work Management disciplines. These improvements are based on:
Better data management and optimal management of the software infrastructure.


When using one or more Atlassian tools, you'll get a unified login experience; It won't be necessary to go tool by tool to log in.


An improved search engine across all Atlassian tools. This will allow finding the information needed across different tools.


The collaboration experience among the different tools has been extended. It's possible to mention other teams and/or people across the Atlassian stack of products.


Automation! It's here to eliminate redundant work and save work hours. This functionality is now available on different Atlassian tools, allowing automation without code and even including it in workflows.
Atlas
Atlassian has its team distributed worldwide, mainly across the United States, Netherlands, India, Japan, New Zealand, and Australia. Based on their own culture and experience, it's essential to provide teams autonomy and alignment.
They have developed a solution that helps companies track work from different parts of the world and across various software tools and teams about a single aspect of a project. Its name is Atlas.
Atlas is a "new" BETA product, and it has gone through different stages and names; formerly, it was known as Watermelon, on a later stage as Team Central, and currently, it's Atlas. We even had one episode of our podcast about this product.
Atlassian is advertising this tool as a directory of people across the entire organization. It helps to track OKRs and different project goals for all teams within a company, and it centralizes project information from the tools and people involved.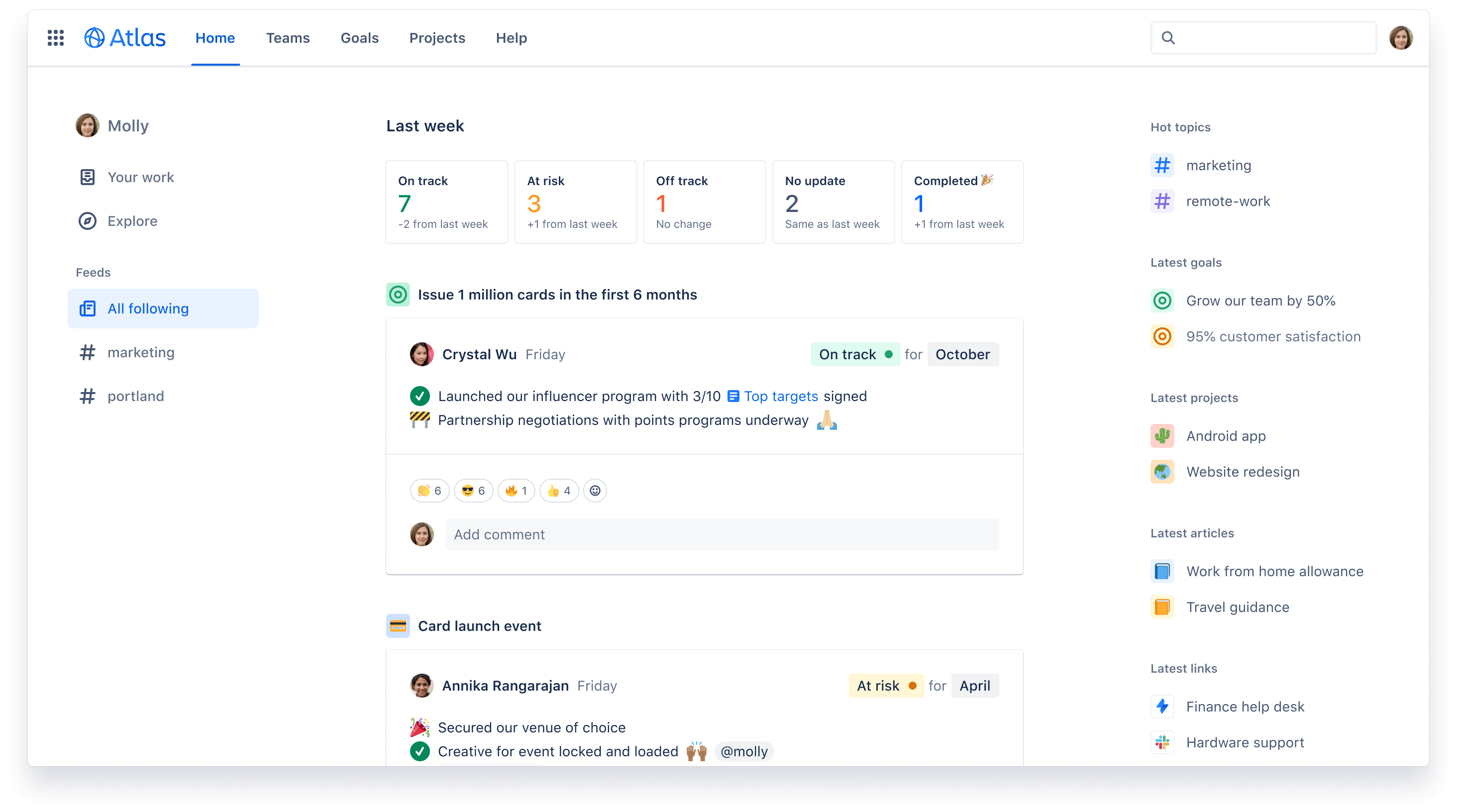 Atlas enables a home page for each team to answer the questions: What are we doing? Why are we doing it? How does success look?.
It's also possible to add links from other tools to provide more context about the project. This will preview links from Loom, Google Docs, Figma, Confluence, and over 40 software tools, as you can see below: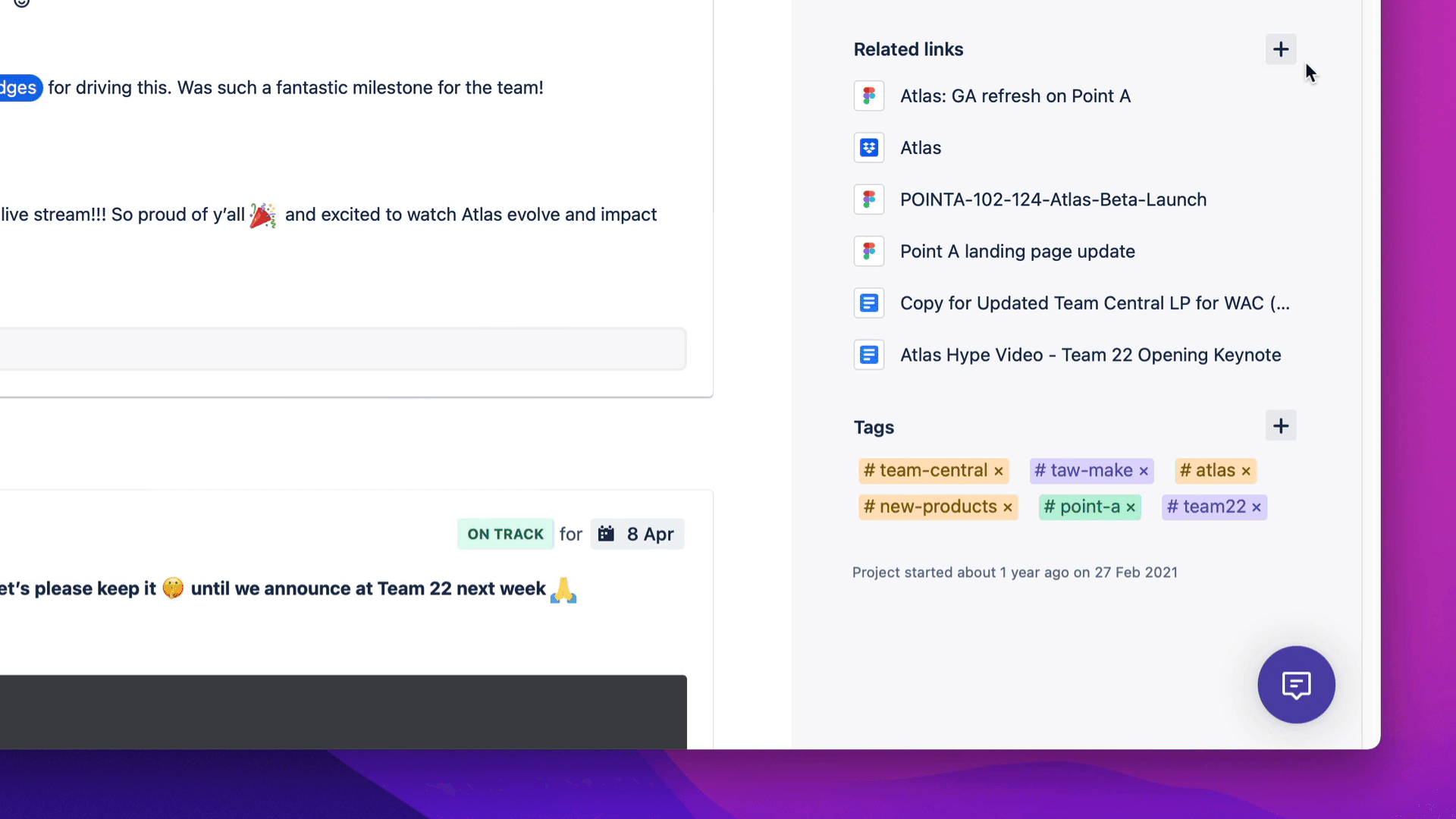 Atlas provides the necessary asynchronous information to allow each team member to keep working without joining status meetings. The system sends weekly and monthly reminders to each team member inviting them to update their work in 280 characters besides adding images, documents, videos, etc.
The system also sends a monthly newsletter about the project status to each project stakeholder.
The "fuzzy" dates. Are those dates estimating when the project will be ready. However, they are not definitive since they allow adjustment throughout the project's development until it's defined definitively.
Another key feature allows watching which person is working on which project besides getting to know each of those people's areas of knowledge by using the "Topics" feature.
Atlas is now available for free in its BETA version right from the Atlassian website.
Compass
Another big announcement from Atlassian was Compass, a tool inspired by the company's internal development portal. Compass is a portal for developers that provides a real-time overview of everything in the Development area. It's a product that aims to reinvent collaboration between developers.
In Compass, you'll be able to track work through "components," which are "pieces" building a project. Having the data centralized allows for following each component, tool, and dependency.
Compass is a hub that enables relevant information whenever necessary. It's useful for Development and DevOps environments and supports integrations with Jira Software, GitHub, etc.
Compass enables greater control for large development environments. It allows controlling the architecture of the software and its tools, understanding the dependencies between the tools, and consequently improving the health of each of these "components" through the customization of the developers' work experience, establishing this new software as a single source of truth.
Find further information about Compass here. An early access program will be available soon.
Atlassian Data Lake & Atlassian Analytics

With these tools, it's now possible to centralize the information across all Atlassian tools, as explained further in the video below:
Atlassian has created a site that centralizes the creation of reports with data extracted from your tools. This will allow you to create reports on Jira stories, Pull requests from Bitbucket, and/or Issues from Jira Service Management.

Alternatively, sharing business goals will help team alignment in the decision-making process, and overall, it enhances teamwork. I.e., when a team uses a tool, it might create information bubbles only available within each software realm and team, slowing down collaboration possibilities.
So far, this is what's possible with Atlassian Data Lake and Atlassian Analytics BETA, available for Jira Software and Jira Service Management.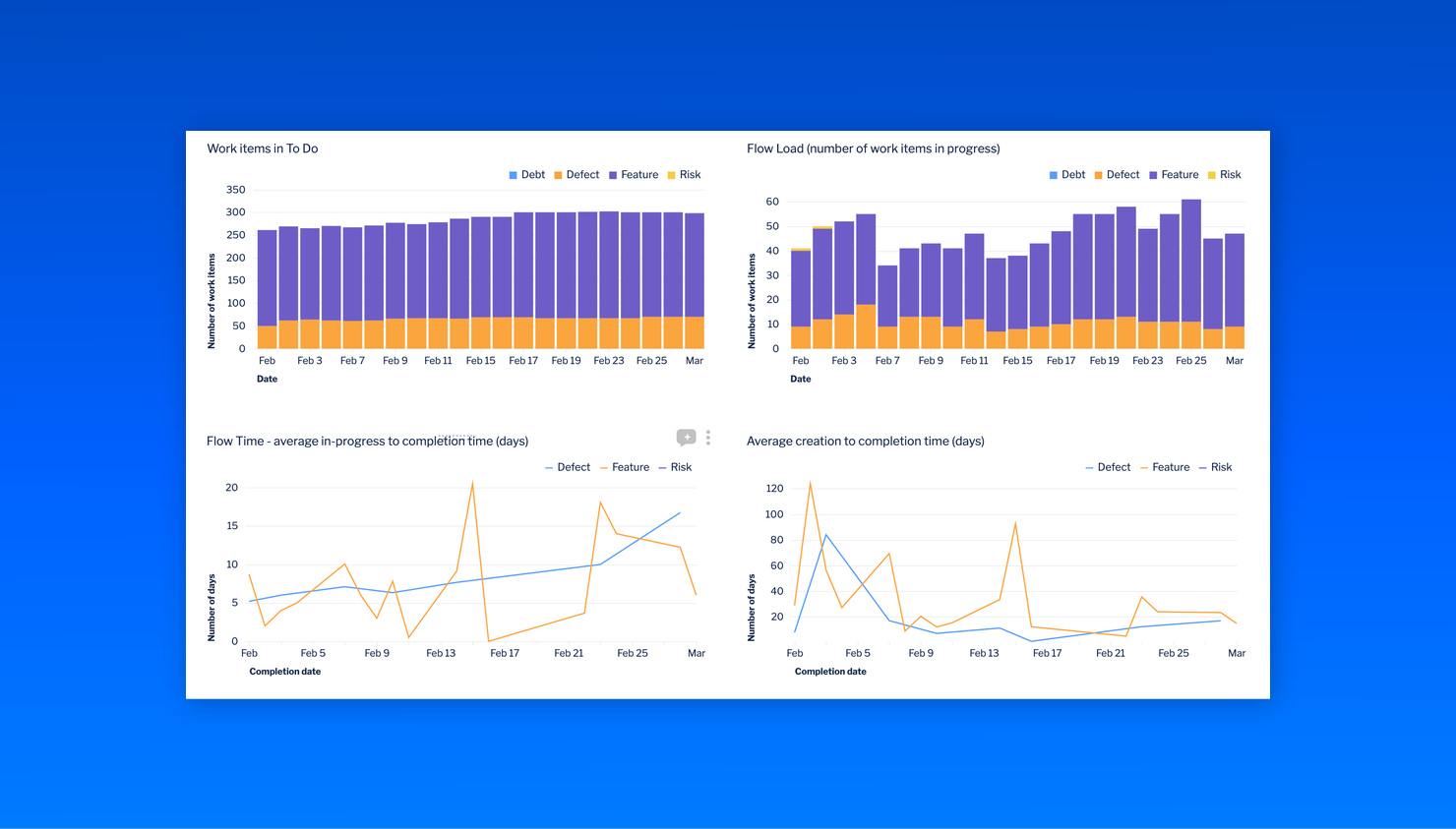 This platform offers report templates, and if you're looking for detailed data, it can be customized using JQL. Combining the data to make reports from other tools outside the Atlassian environment will also be possible. An early access program is currently available for Jira Software and Jira Service Management users.
Confluence

Confluence has focused on enriching simultaneous collaboration with other people making the tool more interactive. Adding emojis reactions to the content or the presentation mode are great examples of those features that will be available soon, like the ones as follows:
Create reports and edit them directly from the Confluence page by filling the data on a table without leaving the page you're working on.
Create automatizations with Automation. It's possible to automate reports and blog posts sents. It's already available through an "early access" program for the Cloud Premium plan.
Move email chains, video calls, and Microsoft Teams conversations to a page where everyone collaborates in real-time and creates new employees onboarding based on templates; this will inform the newcomer about everything that person will have to do during their first 90 days in the company.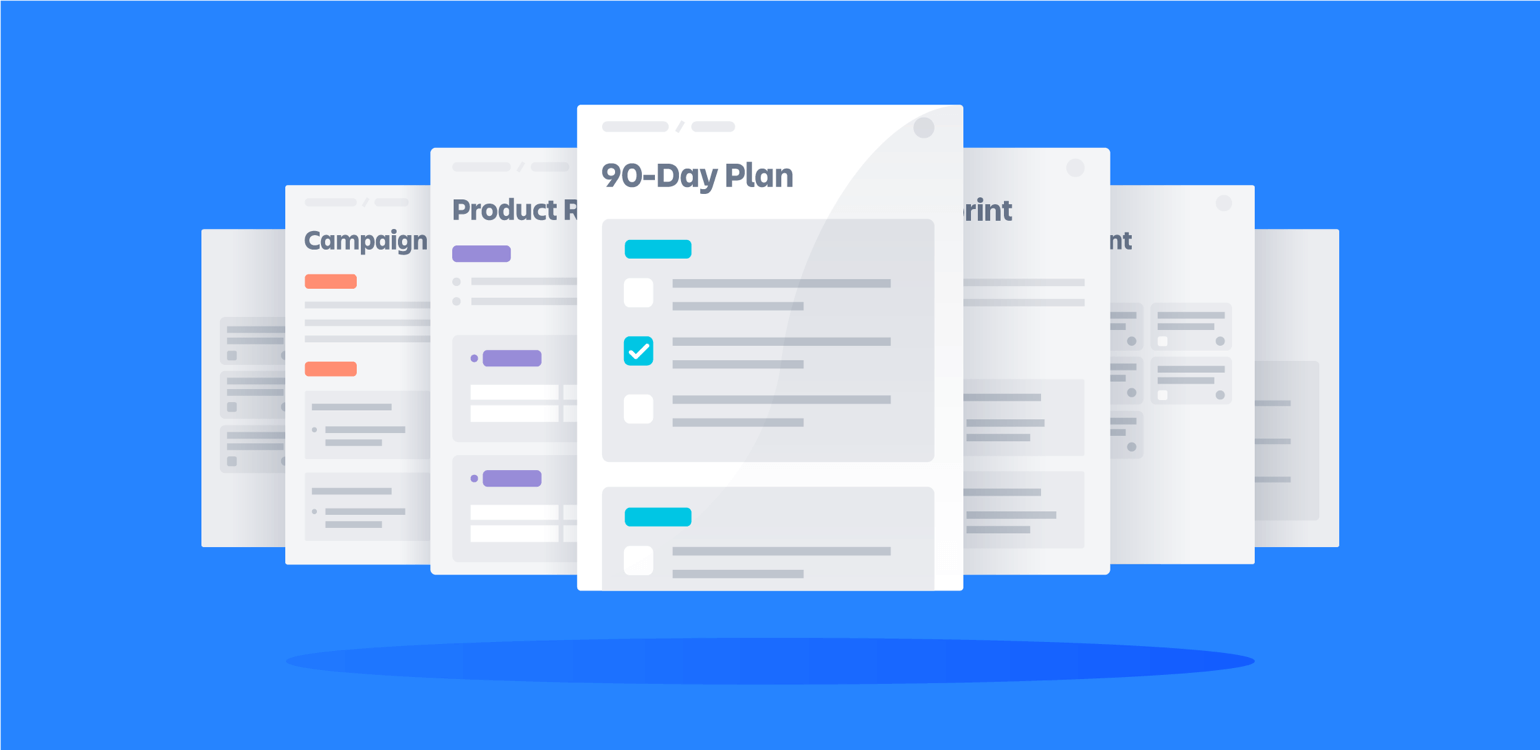 The tool also allows you to follow people within your company, as in a social network. You'll be updated about any person's work, generating valuable interactions.
They have announced the slideshow mode, a new feature that allows showing the content of the Confluence page as if it were a slideshow, as follows: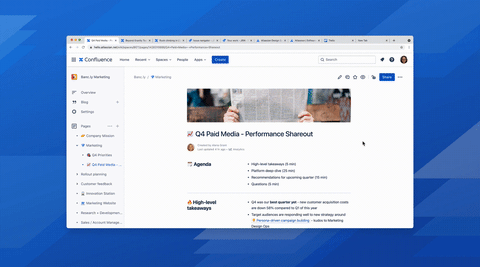 They have also included smart links, which offer greater visual collaboration capabilities through previews of the link content and sharing it with other colleagues on a Confluence page.
Data Residency
Atlassian is currently available in three regions (APAC, Europe, Australia, and the USA); they have announced they're working to increase the number of locations to four more (Canada, Japan, United Kingdom, and Germany). It will be available in the next 12 months. If you would like to know more about this feature, check here.
Atlassian
Marketplace and
Forge

Forge is a platform for developing cloud apps using the same infrastructure, security, and data management standards that Atlassian has used to build Jira and Confluence. According to the keynotes, more than 800 apps have been created using Forge to date. In addition to that, the Atlassian apps market has grown to 5,600 apps selling more than 2 billion dollars, an achievement we're proud to be a part of:
Jira Service Management
The announcements about this tool were made across the different keynotes; therefore, the areas of interest were focused on the Developers, the IT Development team, and support teams, those within the Information Technologies Service Management (ITSM) spectrum. Let's go through them:
Dev/Ops (IT):
With Jira Service Management, it is now possible to reduce manual change requests. This will be possible by connecting your CICD tools, such as Bitbucket, Git, Jenkins, Octopus Deploy, etc. This connection will allow you to automatically generate this type of request, including information on the code and deployment mode.
The IT Operations team will benefit from this connection because they will no longer need to approve each change manually. It will be necessary just to set up the rules previously.
Assign priorities based on the type of request from the development team. It will be evaluated whether to perform the change request manually or leave it in the hands of the system automation.

Jira Service Management now offers the ability to announce system changes on a scheduled basis and check them against the people's schedules. By scheduling these changes automatically, the system will alert about the possibility of various conflicts, allowing it to respond fast without hindering the work of other people and teams.
Support team:
Jira Service Management has incorporated a no-code (or almost none) form builder. This feature allows anyone from any team to collaborate with the IT team when creating forms—making it easier to request technical information on a specific topic. To this end, a library with more than 300 customizable form templates is available.


They have introduced the "conversational ticketing," a feature that includes and synchronizes conversations from Slack or Microsoft Teams in the Jira Service Management tickets.


This year's acquisition corresponds to Percept.ai, an artificial intelligence system that enables automated support request answers applied on a large scale. In turn, in more complex requests, this type of artificial intelligence identifies the situation and escalates the issues to an agent when the system cannot offer an adequate solution.
Atlassian has uploaded the following video to their YouTube channel where they explain each of these additions to the toolkit::
Other announcements:
Based on the insight that many companies have different software tools for each team, Atlassian has made several adjustments and additions to its tools to help them to achieve digital transformation at its best. These enhancements are:
Trello

: Enterprise plan was announced that allows scaling the tool's capacity.



Jira Work Management

: apart from offering lists, calendars, timelines, and dashboards, now it's possible to allow other stakeholders to watch which project belongs to which person and foresee the status development in real-time. Learn more about JWM.


Jira Product Discovery: This is a new site that offers a view of the current inventory of your Atlassian tools and the ones to consider purchasing. It allows the different teams within the company to vote for the software tool they need. It's already available for free, on its BETA version. Check other features here.



The Design Tab in Jira Software: Soon, they will enable a tab that will ease the collaboration with the design team to improve usability and design optimization. This will allow a connection to the software tool of choice: Adobe, Figma, or others.


The Tool Chain Page

: It's a tool management page that will let you know, based on your current software stack, which integrations to other tools or apps are suitable for you, helping you make these connections and get a complete visualization.
Atlassian Cloud is the future
As you have seen, Atlassian is focusing its efforts on centralizing all of its tools in the cloud, enabling a unified work frame among people and teams with the higher aim of encouraging and finessing close collaboration.