We have renewed the Projectrak Collaborative Backlog and we would like to explain the reasons why we have made it... first of all, because when working on the creation of a software product such as Projectrak (formerly Profields) for Jira project tracking, it's essential to keep the communication with users flowing both ways in order to implement their suggestions. Keep reading...
By enabling the Projectrak Collaborative Backlog, we decided to motivate the users of the app to provide us with feedback. This feedback will be turned into potential features, and build a sense of community around it as well.
Our main mission at DEISER is to build this app as a project tracker for Jira, to offer user-centric solutions focused on ease users' work, and help them to achieve their goals. This is why the Projectrak Collaborative Backlog it's necessary in order to build a well crafted Atlassian app: because of human interactions and their constructive feedback.


But first... What's the Projectrak Collaborative Backlog?

The Projectrak Collaborative Backlog it's a place where we enable the users of Projectrak, to send their feedback, opinions and ideas, suggest new potential features that fulfill their needs, generate conversations with them and therefore build a better product among all contributors. It's another initiative that comes from the Product team. The image below shows how to access this new space, right from DEISER Support Portal: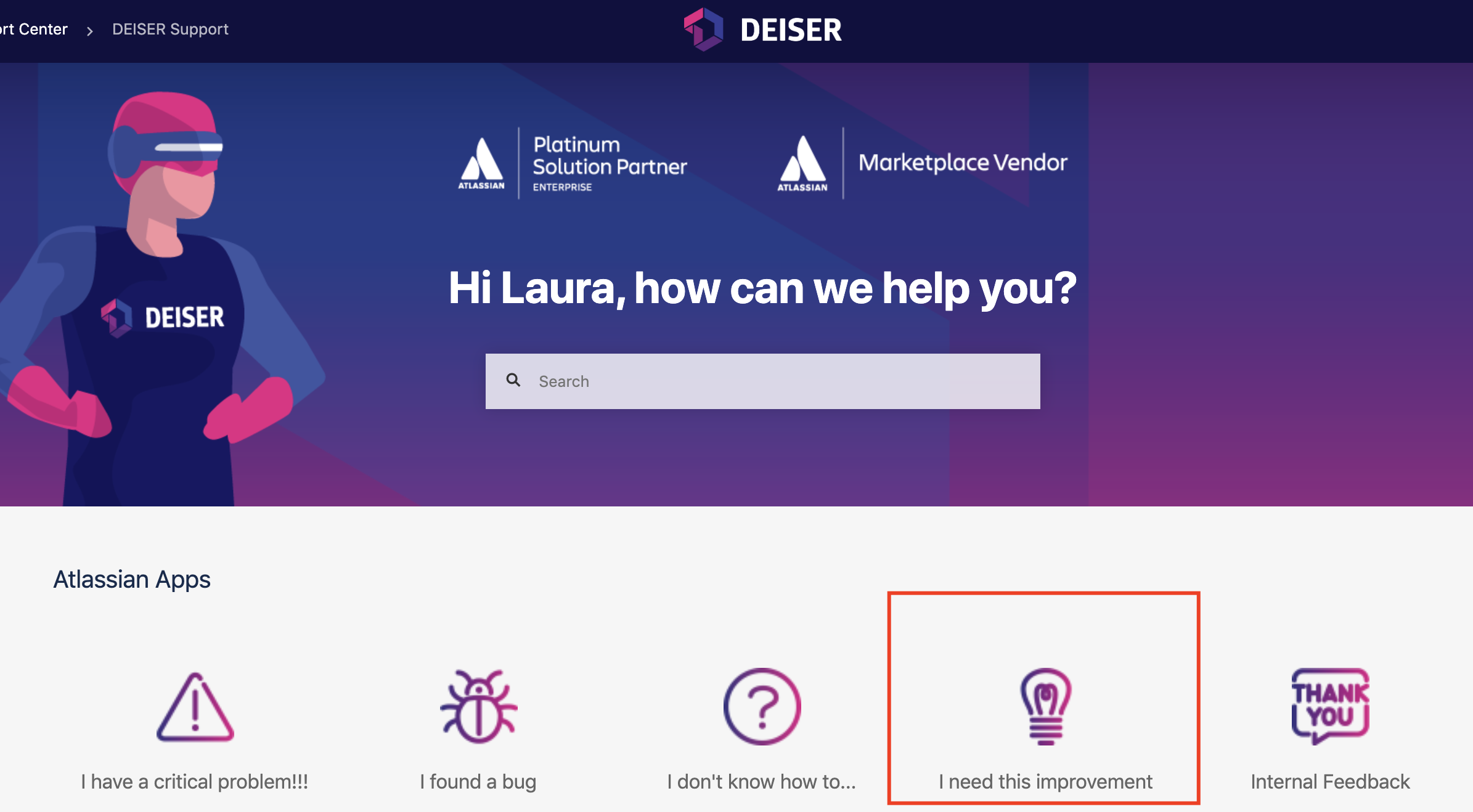 Access the Projectrak Collaborative Backlog right from the Support Portal of DEISER.

4 Reasons why we've created the Projectrak Collaborative Backlog
The DEISER team building apps, came up with this backlog to be sure we're aligned with the needs of the users and that we're actually providing them with solutions. Here, we'll explain more about this backlog and why we all need it:


1. To reach all the users of Projectrak
As stated before, it is crucial to keep communication with users constantly flowing. Nevertheless, when talking about a B2B software product such as Projectrak, it is very difficult to address all users. Even worse, it is even more difficult for them to reach back to you.
This is why we have created a new site where the users of Projectrak will be able to provide their ideas, vote for those they are more interested in, and be directly involved in the future of the product as an app to track projects in Jira. Note that a product without users is just a piece of software running on a server.
2. We need accurate data in order to prioritize the future features of Projectrak in a better way
We have received around 120 public ideas (at our last backlog), and we have been wondering about some of them... "This is likely useless for everybody but… What if we are wrong?" Or even worse… "Are we developing features that nobody needs?"
Even though we follow a strategical development plan lead by the proactive research of Laura, our UX Designer, we are eager to receive inputs that may help us to create the best possible app for Jira to track projects. In order to achieve this, at the backlog, we use the Jira voting module which allows each user to vote for those ideas they like the most.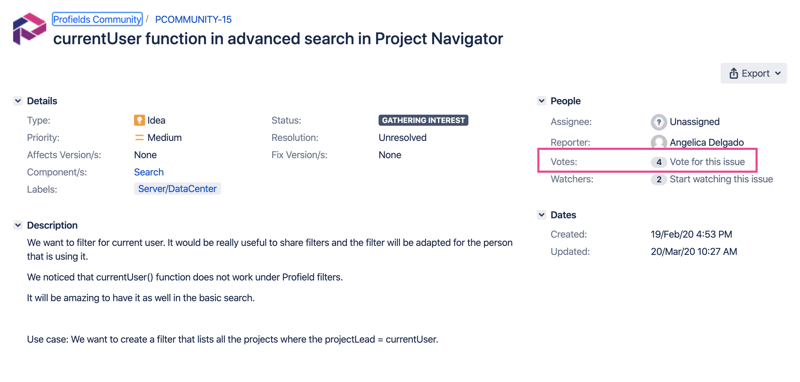 The voting module of the Projectrak Collaborative Backlog in Jira, allows users to vote for their favorite possible new features
3. To get rid of uncertainty
We want to prevent our app users from wondering things such as "Will DEISER/Projectrak' team released the feature they asked me so much about?"

We want to provide useful answers to our customers, we want to be very explicit in our process and publicly commit ourselves. That's why, in addition to voting and registering ideas, the users of Projectrak will also be able to see which of them have been accepted and prioritized to be included in the backlog. Besides, they will be allowed to see whether their idea is only accepted or it is already being developed.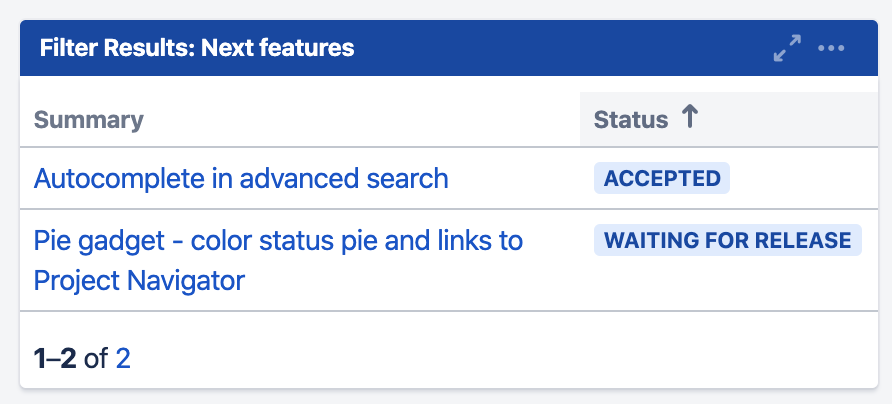 TheProjectrak Collaborative Backlog will show the next features suggested by users.
In addition to this, we have included a section in the Projectrak Documentation Center where we explain the way we will treat those ideas, what does each status means, etc... this way, our users will better understand the process behind each of the ideas they have collaborated with.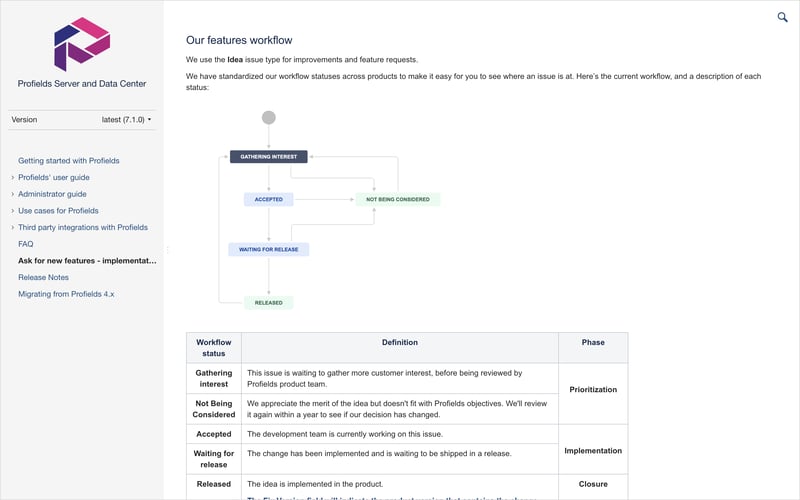 The Projectrak (formerly Profields) Documentation Center explain in detail how the Profields Collaborative Backlog works
4. To get to know Projectrak users better
We want to know more about Projectrak users, not only their ideas. The comments derived from each idea they provide us, the use cases they face which that in turn will allow us to understand the different scenarios they use Projectrak, and why, where and when do they need these possible new and different features.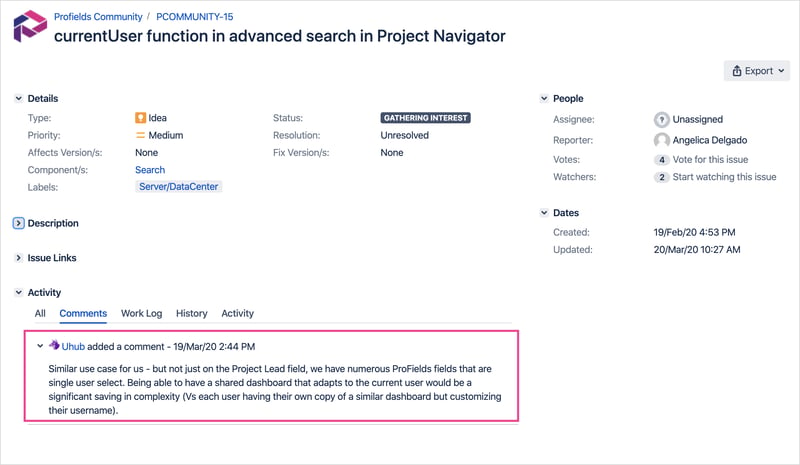 The Projectrak Collaborative Backlog it's a place to share ideas about possible new features
The time to encourage collaborative teamwork has arrived. Never has been a better moment to encourage this behavior around all the software product teams, the makers, the administrators and the users... thanks for joining and colluding with us in the Projectrak Collaborative Backlog!