Since Atlassian announced the end of the Server option, many organizations are debating migrating between Cloud and Data Center. The right choice will be determined by the version and the products the company is currently working with; this will determine the migration method and the data migration strategy. This blog post will explain the most convenient migration methods and strategies to Atlassian Cloud.
It all starts by asking the question: Data Center or Cloud? The answer comes with many other questions and requirements; among those, evaluating the Atlassian Cloud migration wizards available will help you choose which settings are more suitable to move to the cloud, including any other available migration paths for the apps you already have in Server. And, of course, having the assistance of an Atlassian partner makes life easier.
3 Basic data migration methods to Atlassian Cloud
Did you choose to migrate to Atlassian Cloud? If that's the case, let's consider which steps will help you determine your migration strategy:
1. User management considerations
There are several ways to migrate users, depending on how you've managed them and which needs will be needed to cover in the future.
While some organizations manage users without automatization, others use Atlassian Access for better control over password policies, administration logs, unified user management, 2FA, API controls, and SAML single sign-on.
Access clients can be migrated using the SCIM provisioning feature. For non-Access clients, Atlassian recommends using Cloud migration wizards, as these tools do the heavy lifting by migrating users and pre-checks.
To move forward safely, you must answer the following questions about user management:
Are you currently using the same user directory for all your server products?


If you use externally managed users, which identity provider has that data now?


Who initially set up user administration on your current system? (If it wasn't you, involve the person who did it, or at least a Server administrator that confirms how users and groups are set up).
2. Tips migrating Atlassian Marketplace apps
Establishing a solid migration plan for the Atlassian Marketplace apps installed on Server starts with understanding what you currently have and what you want to achieve in the cloud. Functionalities might change from one deployment to another. A system audit will help you to understand your situation and determine what to do during the migration. The basic questions you should answer are:
Which apps do you currently have?
Who uses them and what for?
Are they essential?
Are there similar Cloud features or alternative apps that offer the same functionality in the cloud?
How do the costs compare between server and cloud?
Chances are you have several apps. You may have inherited an instance from previous administrations with more than 30 apps (we know!). Think about the migration process as an opportunity to clean your instance.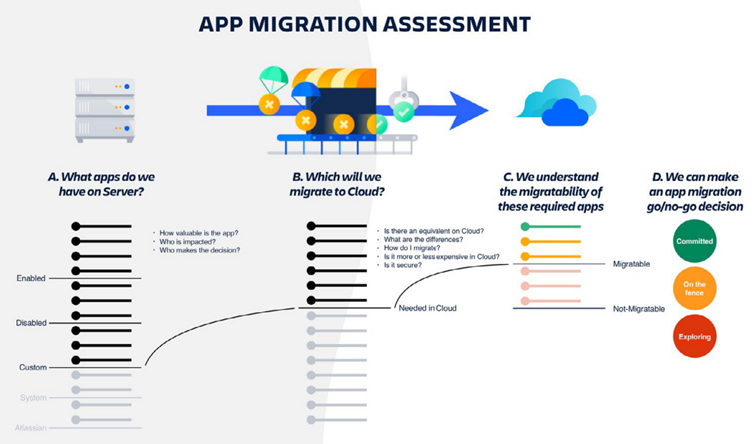 What do you need to do to migrate your apps to Atlassian Cloud?
Apps are essential in the migration process, and it can be overwhelming for those who don't have time to review and migrate app data. That's when we intervein. As a certified Atlassian Platinum Solution Partner, we have the expertise to help you evaluate your apps, perform audits to determine the best way to migrate, and/or explore how to migrate them or find alternative apps for the cloud.
3. Assess the Atlassian Cloud migration complexity
The more complex the migration is, the more time it will take to plan and execute. Consider the following factors when assessing your migration:
Size: Referring to the size of data and the number of users to migrate. A small deployment with only a few gigabytes and less than 1000 users will be much easier to migrate than a site with hundreds of gigabytes of data and thousands of users; It's equally important to consider it because the downtime might cause from a planning perspective.


Apps: It's essential to account for the number of Atlassian Marketplace apps you have, especially the most relevant for the team. It's needed to evaluate their availability in the cloud if there are alternatives, even if they have an established migration path.


Customization: Custom fields, custom integrations, and unusual data structures.


The number of products: The more products you need to migrate, the more complex the migration will be. I.e., a Jira Software-only migration is simpler than migrating Jira Software and Jira Service Management simultaneously.


Consolidation: If the need is to consolidate multiple sites, rather than simply migrating one to another new site, this means increased data complexity; Apps and users must be grouped. In general, the greater the number of consolidations required, the greater the complexity of the migration will be.


User management: some factors might increase the complexity in this aspect; while using Atlassian Access, evaluating the number of anonymous users, inactive users, and using multiple identity providers, must be considered.
4 Atlassian Cloud data migration strategies
It's important to understand the aspects involved while migrating to Atlassian Cloud, the advantages and disadvantages offered by each approach, and choosing the best-suited option to specific enterprise needs. Therefore, we'll show four strategies to consider when migrating regarding the current state of your products and where to go in the future:
1. Do it all at once
This is the most direct approach. It's recommended to use it to migrate only what you need "at once." Then, it will be required to evaluate which data to migrate to the cloud and which to leave in the Server instance as a read-only reference. This will ease cloud navigation and performance.
2. Rehosting
This strategy is recommended for organizations with less than 2000 users; it consists of taking all the data (from products, users, and apps) and migrating it to the cloud in a single migration. This approach helps reduce costs, although, on the other hand, it may increase downtime, depending on the size of your data.
3. Do it in stages
This strategy proposes to perform the data migration in stages. After each migration is completed, it will create learnings between each iteration, considering the problems that may arise. This approach promises to reduce downtime and optimize time since users can be brought in small blocks. However, migrating to Jira Service Management or Advanced Roadmaps may not be effective.
4. Start from scratch
If the data from Server won't be needed in the future, or if it's needed to start working directly in Cloud, this is the right approach. It involves setting up the Atlassian products of interest in the Cloud and start working. Of course, this perspective is better suited for small organizations or new teams to the product; the trade-off is that users won't have access to old project data.
Once assessed your current situation and understand the requirements needed to migrate basic data to Atlassian Cloud, the next step will be to develop a project plan specifying the actions, estimated timelines, dependencies, and responsible to achieve a successful migration. We'll try to guide you through these steps by means of a series of blog posts we're publishing.
If you need more information, please get in touch with us or leave a comment, and we'll come back to you as soon as possible with the best possible response.