Opsgenie is a relatively new Atlassian product. It proactively helps Operations (Ops) teams manage incidents. This solution encourages collaboration between all the other teams and Ops based on automated functionalities. Here you'll learn what Opsgenie is used for, which tangible benefits you get from it, and some tips on acquiring it.

According to Atlassian, when a service suffers an incident that knocks it offline, it can affect thousands of people and cost the company up to $700 billion annually. This is based on a study conducted by IHS Markit in North America. Avoiding and addressing such incidents promptly is a challenge organizations face today, and Opsgenie solves it efficiently.
Opsgenie's features can be divided into two main areas. The first one is incident management focused, which allows planning for different scenarios and the post-incident analysis. The second area oversees aligning communications and collaboration of the team involved in resolving the incident alongside the Operations team. This is done through the Incident Command Center (ICC), a smart centralization and notifications control system. The following image summarizes it: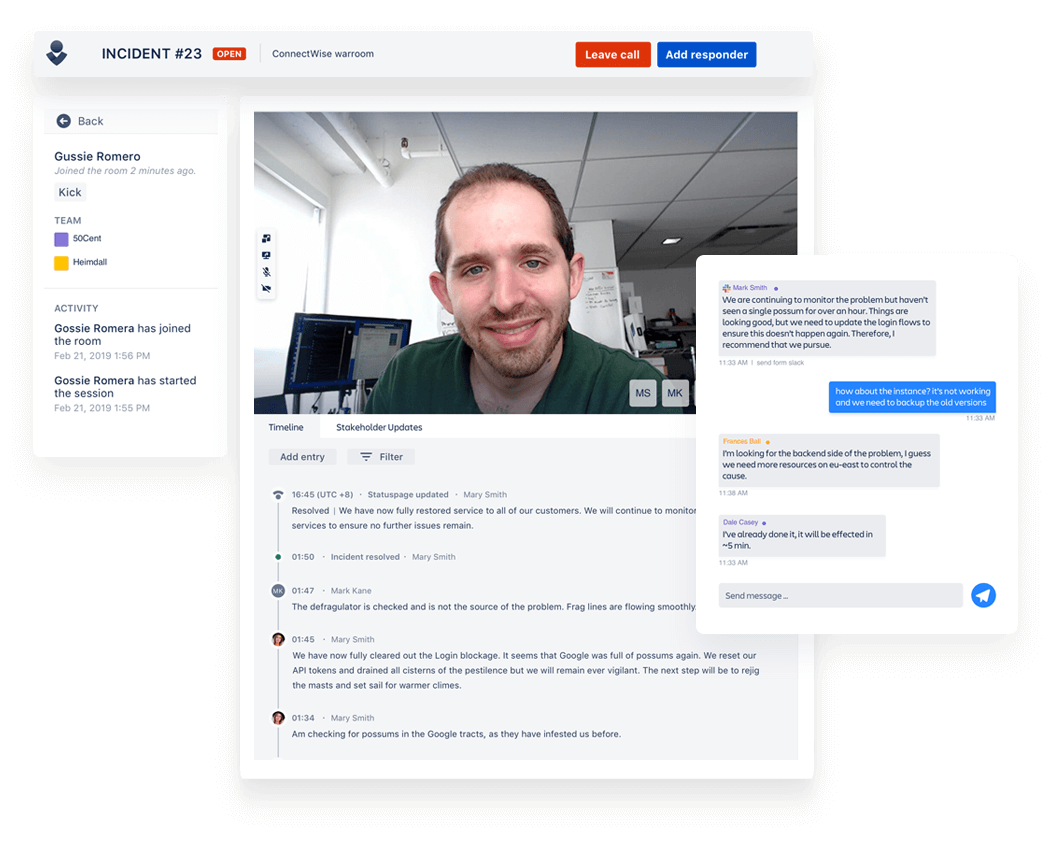 Globally solve incidents in your company...
What is it, and what is Opsgenie used for?
Opsgenie is an Atlassian product that helps teams manage incidents; it's beneficial for the Operations team, especially when managing shifts and alerts in a centralized way. Atlassian acquired this tool in 2018. However, it was not until 2020 that they included it in their products suite, together with Jira Service Management (JSM), as JiraOps.

Opsgenie centralizes incident alerts, notifies the right people at the right time, and is connected and synchronized to other tools.
A comprehensive solution for IT Service Management...


What is JiraOps?

Atlassian defines it as an incident command center based on Jira Service Management and Opsgenie, besides other integrations. JiraOps provides your team a space to coordinate the most appropriate response to customers. This technology, based on Jira workflows, guides the Operations team through the standard steps to solve different situations. This solution provides consistency when managing incidents and offers reusable "templates" to save time solving future outages.
Opsgenie benefits for efficient incident resolution
Allow Support and Operation teams to keep track of products in production and manage them from a single space.


Decrease response times of the Operation teams.


Avoid having 10893 applications to monitor different systems.


Skip the manual work of creating email-based alerts.


Centralize everything in one place: creating alerts and incidents using Jira Service Management.
Opsgenie features for the Operation teams
The features Opsgenie offers may vary depending on the plan you select and best fit your needs –this is explained further below:
Alert management: Opsgenie groups notifications, filters noise and sends alerts to different channels where stakeholders are.



Flexibility to adapt to any workflow: Customize calls and set up routing rules to handle alerts differently depending on their origin and workload.



Dynamic reporting and analytics: Get information on everything that happens in the incident resolution process. Learn what went well and which opportunities for improvement were found, allowing you to refine alert processes and create future team on-call schedules.



Incident investigation: Correlate incident deployments and confirmations directly from Opsgenie for auditing and better information control.

Integrate Opsgenie and Jira Service Management

:

As part of the JiraOps package mentioned above, this is a bi-directional integration that allows the creation and/or synchronization of Jira issues with Opsgenie from any alert created in another system.

Additionally, this integration brings many benefits to managing IT projects and enhances stakeholder communication, such as:
Simplify workflows: Manage Jira issues and alerts coming to Opsgenie in one place. Assign, acknowledge and close Jira alerts and issues from Opsgenie.


Improve incident communication: It provides fine-tuned notifications for all Jira incidents during on-call hours, rotations, and escalations. With this alert system, you'll be sure the proper alert will reach the right person at the right time.


Notifications customization: Notify interested stakeholders via phone calls, SMS, email, or automatic iOS and Android messages. Whatever best fits the team and their way of working.


Coordinate incident response: Forward alerts and incidents to collaboration tools such as Slack, HipChat, MS Teams, or any other your team uses; create conferences to start the incident-solving using real-time communication tools.
Other integrations...
Besides the JSM integration, it's possible to integrate Opsgenie with more than 200 other software tools, apps, and web services to synchronize data notifications and optimize workflows. These include Slack, Datadog, Amazon CloudWatch, Zendesk, Zapier, and more.
What Opsgenie acquisition/licensing strategy should you pursue?
Depending on the plan you select, the tool will have different functionalities. If it's your first time, we recommend two ways:
Purchase the tool Individually. This option will allow you to integrate the tool with any IT or Development tool (in case you don't need Jira Service Management). See the plans.


We recommend acquiring the tool on this plan if your goal is to centralize your systems

.


Purchase it with the Jira Service Management Cloud plan. This option will provide you with a complete IT Service Management (ITSM) solution. See the plans.


We recommend getting the Premium plan, as it offers more features, such as synchronization with Jira incidents and vice versa.




REMEMBER: We make these recommendations for you to get more features. Your situation may be very different: maybe you don't need all of them, perhaps you need more, or maybe it's not the right tool for you. If you have any doubts, don't hesitate to get in touch with us.
As you have seen, Opsgenie is that genie in the lamp that every Operations team needs to take incident control to the next level and deliver optimal service. If you would like to learn more about the tool, feel free to contact us below.