Although Workload used to be a free JIRA plug-in on the Atlassian Marketplace, we just released version 2.0, which will be payware, though we believe its cost will be very affordable for those who can appreciate its great utility. Simple but efficient. Tremendously efficient. We've been using version 2.0, available now, in-house at Deiser for some time now. Well, not everyone, but some people volunteered to test it and, especially, to take advantage of the features and information it offers.
November 12: Houston, we have a problem
The thing is, at our company, as in almost every company, the workload is heavy and people tend to be overloaded, too overloaded. And I'm no exception. A problem came up that I had to deal with, but I needed help. For a while now I've been distancing myself from technical activities, so certain jobs require a lot of effort from me. So I was thinking about who could help me out, and three names immediately came to mind: Antonio, Luis and Leo. Why? There are many people who can help me, but I knew these three had spent several weeks using Workload 2.0 and its JIRA dashboard. We have an internal system that relies on JIRA and Confluence, of course, and these three had been using/testing Workload 2.0, among other plug-ins. So they'd probably have a much better picture of their workload, something I'd be able to see through JIRA.
Displaying workloads in Workload 2.0
With this idea in mind, I logged into our system and came across this screen: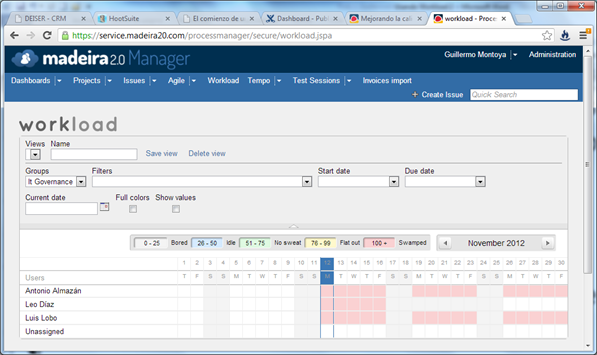 Although the pale red color was a good indicator, everything pointed to the team being overloaded. Even so, I activated the "Full Colors" mode for a clearer picture: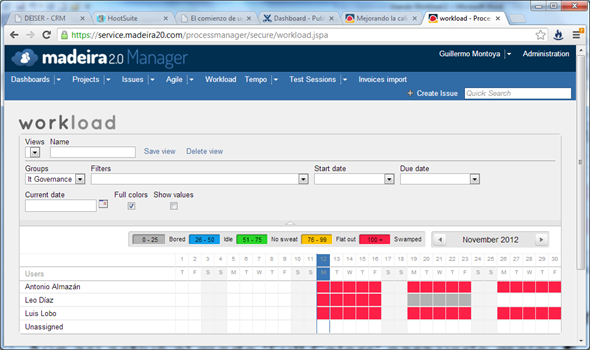 My suspicions were in fact confirmed. Still, I wanted to check the real extent to which the staff was overloaded and learned that in almost every case, the outlook was bleak: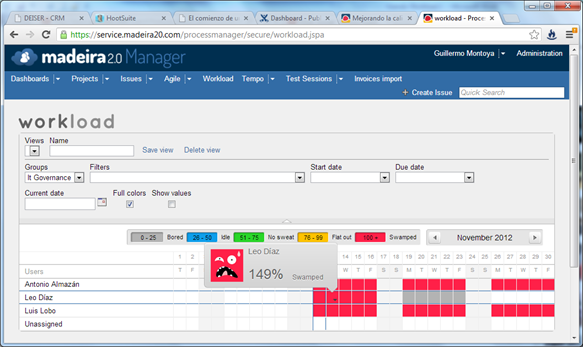 As if that weren't enough to convince me, I activated the "Show Values" mode, which only served to confirm my worst fears: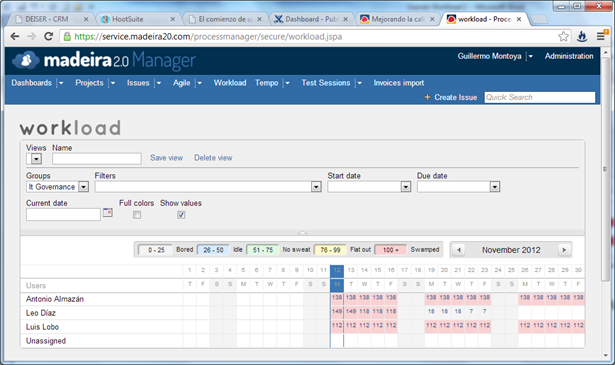 So I had two options:
Wait for the week of November 19 and hope that Leo had less work and try to enlist his help then.
Check the tasks each of them had for this week and see if any of them could be assigned to someone else or delayed a few days. Luis seemed to offer the best option in this regard.
Thanks to a single click in Workload 2.0, I was able to see all the tasks assigned to Luis at the time and that made up part of his workload. I looked at the list: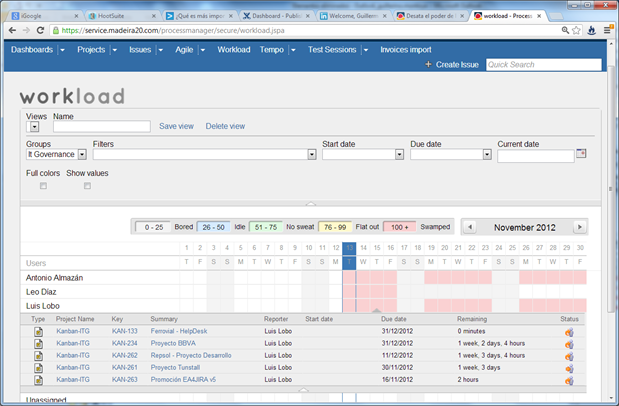 To see if there were any additional details, I went into task KAN-261: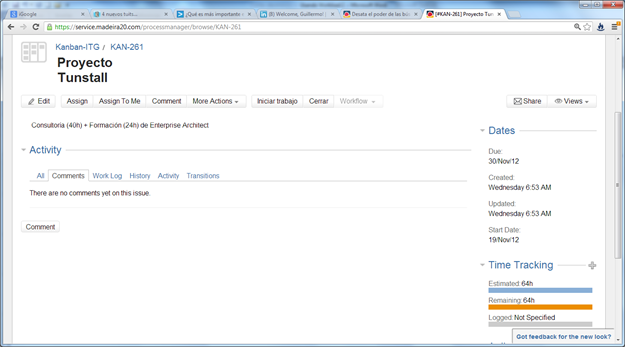 Bad news! All of that task's work was still outstanding and the deadline was fixed, and I knew that the other tasks had to proceed that same week. Moreover, the situation on that very day had already changed with regard to the day before, for the worse!
Since there had been a slight delay carried over from the previous day, the workload had increased since the due dates hadn't been changed. I noticed that despite this, the following week for Leo looked fairly light, so I wondered if I could delay this job by three days and tell Leo to do it on Monday, November 19.
November 13: Workload 2.0 helped me make the best decision
Despite everything, I was eventually able to talk to the client and explain that I'd have everything they had asked me for, only it would be on Monday, November 19 instead of Wednesday the 14th. After all, it was just a three-day delay to hand in a document that wasn't urgent. Thanks to  Workload 2.0, I was able to see at a glance:
The actual workload for the entire team.
When each team member would have some free time.
The tasks each person was working on to see whether it was possible to reduce their workload.
We did, however, decide to change the ranges for each color so that Workload 2.0 now allows you to use red even earlier, thus making it easier to avoid situations like this one: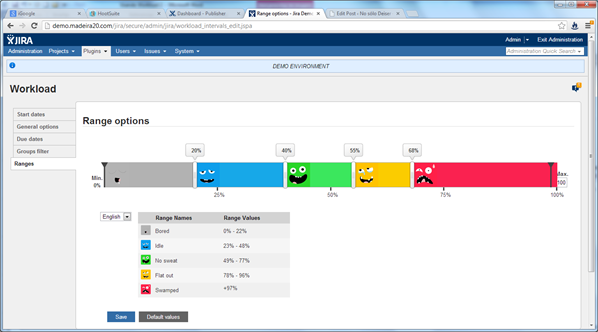 A lot of times, the simplest actions and products offer more when it comes to making important decisions. And Workload 2.0 is a great example of this. To find out more about Workload 2.0, contact us or install this new version, which you can download it now from the Atlassian Marketplace. All the best.